Make your own smörgåsbord
Ingredients
Beetroot and red cabbage slaw
1/2 red cabbage
2 large beetroots
1 orange, juice and zest
2 tbsp olive oil
1 tsp cumin seeds, toasted
Sea salt and black pepper
Mackerel and horseradish pâté
8 peppered mackerel fillets (approx. 350g)
2 tbsp crème fraîche
1 tsp horseradish sauce
1/2 lemon, juice and zest
2 tbsp flat-leaf parsley, finely chopped
Drizzle of olive oil
Sea salt and black pepper
Quick-pickled red onions
2 red onions, finely sliced into rings
3 tbsp red wine vinegar
1 tsp golden caster sugar or honey
Pinch of pink peppercorns (optional)
Sea salt
Dill and yoghurt dip
3-4 grlic cloves, peeled
300g Greek yoghurt
2 tbsp olive or rapesseed oil
Handful of fresh dill, finely chopped
1/4 lemon, juice and zest
Sea salt and black pepper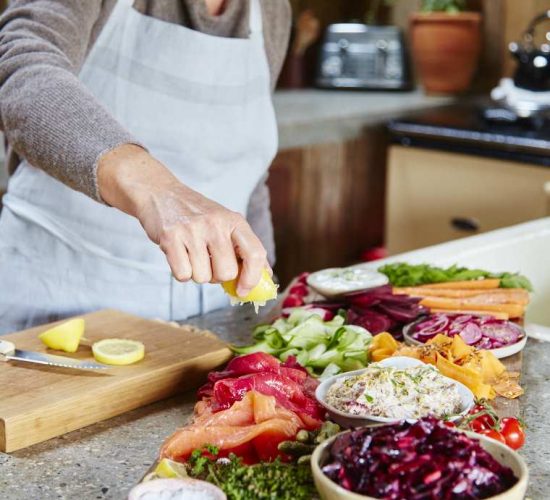 Embrace the Scandinavian way with this smörgåsbord: a vibrant pick 'n' mix of fresh flavours and wholesome ingredients – a wonderfully light, satisfying feast to sit around and enjoy with a group of your nearest and dearest. Serve with smoked salmon or cured fish, pickled cornichons, a selection of crudités (including carrots, radishes, beetroot and cherry tomatoes), ribboned carrots drizzled with olive oil, sprinkled with fennel seeds and orange zest, ribboned cucumbers, drizzled with olive oil, sprinkled with sea salt and black pepper, and fresh herbs such as mint and thyme.
Method
Beetroot and red cabbage slaw
Finely shred the red cabbage and chop the beetroot into matchsticks.
Toss in a bowl with the orange juice and zest, olive oil and cumin seeds. Season with salt and pepper to taste.
Mackerel and horseradish pâté
Remove the skin from teh mackerel and flake the flesh into a bowl. Using a fork, mix it together with the crème fraîche, horseradish sauce, lemon juice and half the parsley. Season to taste.
To serve, grate over the lemon zest, drizzle with the remaining oil and scatter the remaining parsley.
Quick-pickled red onions
Boil the kettle and pour the freshly boiled water over the red onions in a colander or sieve, before transferring them into ice cold water.
Mix the vinegar and sugar (or honey) together with the pink peppercorns and a little salt, before pouring over the red onions. Let them sit for at least 15 minutes (ideally longer) to allow them to pickle before serving.
Dill and yoghurt dip
Crush the garlic cloves and finely chop them. Mix together with the yoghurt, oil, dill (leaving some to garnish), and a squeeze of lemon juice.
Sprinkle over the remaining dill and lemon zest to serve.
Loved this? Now read: 
Liz's healthier picnic eggs with radish salad