Lunch with Liz: Wild mushroom broth
Ingredients
3 tbsp light olive or coconut oil
3-4 garlic cloves, finely chopped
2cm of root ginger, finely chopped
1 stick of lemongrass, bashed
3 tsp turmeric powder
1 red chilli, finely chopped
200g mixed wild mushrooms, roughly chopped
1.2 litres vegetable stock
1⁄2 lemon
70g soba noodles (or medium egg noodles)
2 spring onions, finely chopped
Handful of fresh coriander or parsley
Salt and pepper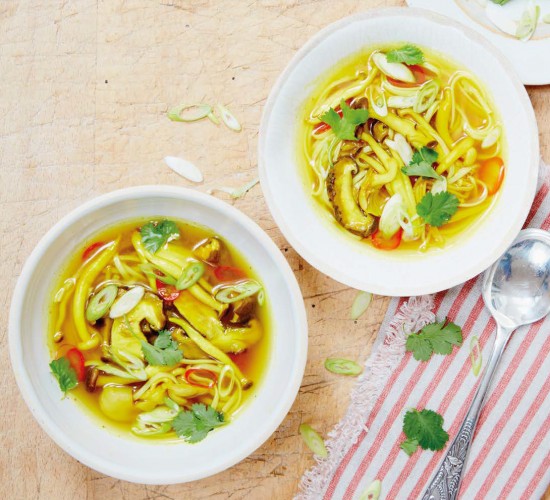 Fragrant, woody mushrooms are hard to resist – brimming with earthy flavours, low in calories and a good source of potassium, selenium and vitamin B, they are a great health food. Try them in a flavoursome lunchtime salad or this warming broth. Watch the video below or scroll down for the recipe.
Wild mushroom broth with turmeric, chilli and ginger
Method
Heat the oil in a deep pan and sauté the garlic, ginger, chilli and whole lemongrass for a few minutes until they start to soften. Add in the turmeric powder and mixed mushrooms, and let it cook for up to 5 minutes, stirring well.
Remove the lemongrass from the pan before pouring in the vegetable stock and squeeze in the juice from the lemon. Let it all simmer for around 10 minutes, adding more stock if you want slightly more liquid.
Add in the noodles for a further 5-6 minutes (or according to packet) of cooking. Season well with salt and pepper, and serve with spring onions and coriander or parsley.
NOTE If you prefer a clearer soup, cook the soba noodles separately in a pan of boiling water for 4 minutes, drain and then add into the broth for the final minute of cooking.
Wellbeing Wisdom
Mushrooms are one of the few plant foods that can be rich in vitamin D, but only if they've been grown in sunlight. If you're unsure how yours were grown, simply top up their vitamin D content by placing mushrooms on a sunny windowsill.