Liz's no-bake healthy flapjack recipe
Ingredients
Large handful (approx 100g) mixed seeds, e.g. pumpkin, linseeds, sunflower)
Large handful (approx 100g) of nuts, e.g.walnuts, pecans
Large handful unsulphured apricots
Small handful sour cherries
Small handful oats (approx 60g)
1 tbsp honey
1 tbsp nut butter
1 orange, zest
squeeze of 1/2 lemon
1 tbsp melted coconut oil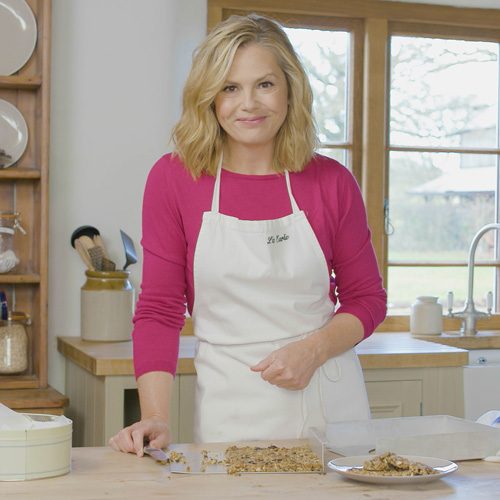 This healthy flapjack recipe is packed with fruit and nuts and couldn't be simpler to whip up – after a couple of trials it's one you can almost make by eye. As the flapjack needs no baking, it's a quick snack to rustle up in bulk for when you need a mid-morning pick-me-up to dip into over the week.
Method
Blitz the nuts, seeds, dried fruit and oats in a food processor until they make a fine powder.
Add the honey, coconut oil and nut butter, then the zest of one orange and the juice of half a lemon.
Using your hands, mix the ingredients together thoroughly – the wet ingredients will bind together the oats, nuts and seeds.
Pour the mixture into a baking tin lined with baking parchment.
Loved this? Why not try…
– Liz's healthy seeded boost bars