Liz's 5 favourite perfumes
Perfumes have such a power to delight and each special scent here holds happy memories. These are my own personal favourites that I wear and share.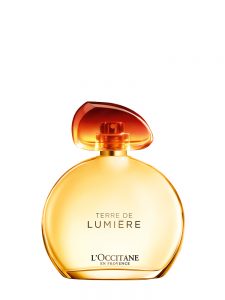 Terre De Lumiére by L'Occitane
For a light, floral, summer perfume, I love L'Occitane's Terre De Lumiére. Beautifully feminine, Terre De Lumiére combines bergamot and blackcurrant with pink peony and white musk to create a fruity floral scent. Ideal for sultry summer evenings or daytime wear throughout the year.
L'Occitane Terre De Lumiére Eau de Parfum £39.58 for 50ml from Amazon or £60 from L'Occitane.
Botanical Essence No.1 by Liz Earle
The first fragrance I was personally involved with creating, so it has a special place in my heart. Light and wearable, it's a modern spicy-citrus classic loved by most, so a safe bet to give.
Liz Earle Botanical Essence No.1 Eau de Parfum £54 for 50ml from Liz Earle or £56.75 from Amazon.
Grapefruit Cologne by Jo Malone
For something fresh and uplifting, spray on Jo Malone's Grapefruit Cologne. The ultimate citrus scent, the smell of fresh grapefruits and peppermint is combined with savoury rosemary and pimento to enliven your senses. This is my go-to summer perfume.
Jo Malone Grapefruit Cologne £47 for 30ml from Jo Malone London.
Rive Gauche by YSL
A vintage '70's classic and my first ever 'proper' perfume. I love the retro revival of this floral aldehyde in tin atomisers and will be gifting this to my modern-day teens to share an early love!
Yves Saint Laurent Gauche Eau de Toilette Spray £29 for 50ml via Amazon or John Lewis.
Sunday Cologne by Byredo
A truly sensational unisex scent, complex without being overpowering, sexy without being obvious. I get a lot of compliments when I wear this woody aromatic fragrance, and always love receiving as a present (hint!).
Byredo Sunday Cologne Eau de Parfum £165 for 100ml from Liberty London or £183 from Amazon.
Loved this? Read on here:
– The best plant oils for your skin
– The best herbs and essential oils for sleep
Please note that this page contains affiliate marketing links, which means that we may receive a small commission from the products purchased via this article. However, we would only ever recommend products that have been tried and tested by Liz or the Wellbeing team.