Liz Earle Wellbeing Yearbook Volume Two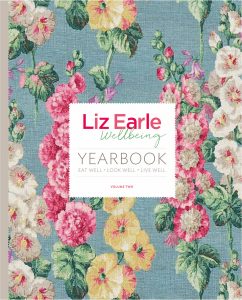 Following on from Volume One, the Yearbook has become a much-loved classic annual. Packed with ingenious yet simple ideas on how to eat well, look well and live well all year round, this new volume contains the very best of Liz Earle Wellbeing with stunning photography to inspire you on every page. From fresh, simple springtime lunches and unforgettable alfresco summer parties to nourishing autumnal recipes and wonderful wellbeing winter feasts, you'll find everything you need to feel great and look fabulous throughout the seasons.
Beautiful enough to grace any coffee table and robust enough to withstand busy kitchens, the classic edition Yearbook has a laminated cover for ease of use. The vintage design gives this book a beautifully timeless appeal, making it the perfect gift for loved ones throughout the year.
Click here to buy the Liz Earle Yearbook Volume Two.
Cover image: Hollyhocks ©2015 Sanderson All Rights Reserved