Liz's top ten African field trip highlights
Liz writes:
My top ten African field trip highlights:
 1. Snap happy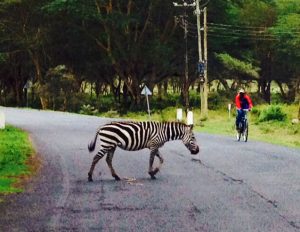 Taking a selfie with a giraffe!
And photographing a real 'zebra crossing' – I know it's corny, but irresistible for a westerner.
Not to mention seeing more wild elephants in five minutes than I've seen in my fifty years on the planet.
2. Hope for HIV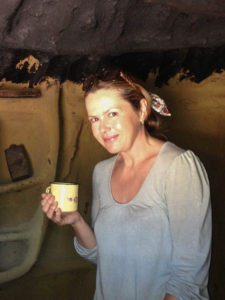 Meeting Namita, an inspirational young Tanzanian mother surviving Aids with the practical help of ACE Africa – so proud to be a Patron.
And sharing a cup of hot tea in a Maasai hut with the pervasive smell of cow dung used to plaster the walls.
3. Water wellbeing
Being grateful for clean water that comes out of a tap, the greatest luxury we so often forget to be thankful for every day back home – and discovering East Africa's extraordinarily beautiful coastline.
We tend to think of Africa as arid, but its huge coastline and lakes teaming with birdlife are amongst the most beautiful in the world.
4. Growing goodness
Learning all about small-space sack gardens and sustainable agriculture – real ways that are feeding real families at no cost (no GM seeds or expensive fertilisers to buy for these subsistence farmers), just recycled hessian sacks filled with soil rich in homemade compost for added fertility.

5. Hope for hunger
Appreciating the true value of food. Feeling hungry on a field trip but still giving away a packed lunch to those you know haven't eaten for days, not just hours. Discovering new tastes and flavours in the food markets where simple basics, such as rice and beans, can be such lifesavers.
6. Waste not…
Learning how everything has a value – how all waste can be re-used and recycled. Seeing people fight over the bins that come to the rubbish dumps filled with left over crusts from sandwich bars and the half-eaten plate scrapings from restaurants – all carefully hand sifted and sold for pennies to those living in squalor on the biggest rubbish dump in Nairobi. I will never throw scraps of food away again without thinking of this… and witnessing the disgrace of Kenya's politicians – the highest paid MPs in the world (yes, really) – who so flagrantly fail their electorate.
7. Fun times
Learning with lessons on the wall. No books in these schools – teachers write their lessons on the walls. Watching children have the most fun kicking around a football made of plastic bags tied together with string. Who says having 'things' makes for greater happiness? Not to mention the ladies who enjoy their football too!
8. The better beader
Being taught to bead by Violet, the best beader in town with the broadest smile to match. Learning to screen print, emboss leather and watching the expert tailors and accessory makers at the many women's ethical fashion initiatives.
9. Close-up and personal
Travelling with my husband and ACE photographer – simply the best!
10. Future inspiration
Being inspired by the work of Sanchat, Ace Africa and Ethical Fashion Africa – real people changing so many real lives for the better.