Lime, passion fruit and coconut spelt cake
Ingredients
For the cake
250g butter
250g caster sugar
4 eggs
250g spelt flour, sifted
1 tsp baking powder, sifted
100g desiccated coconut
3 limes, zest and juice
120ml milk
For the curd filling
120g caster sugar
35g butter
2 medium eggs
2 limes, juice and zest
2 passion fruit, juice (reserve the seeds for decoration)
For the icing
300g golden icing sugar
150g butter
2 passion fruit, juice (reserve the seeds for decoration)
30ml coconut cream (optional)
To decorate
Reserved passion fruit seeds
1 lime, zest
30g coconut flakes, toasted
Edible flowers (optional)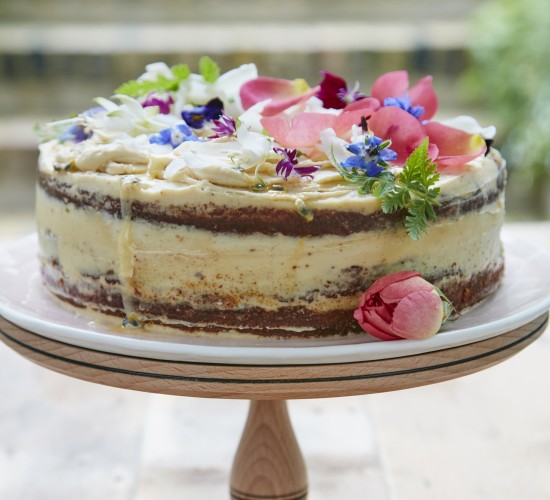 This triple-layer lime, passion fruit and coconut spelt cake is perfect for a relaxed coffee break, served with a cappuccino. The fresh, fruity flavours make this a delicious treat, which looks beautifully vibrant topped with edible flowers.
Method
Grease and line the bottom and sides of a 20cm spring-form cake tin. Preheat the oven to 180ᵒC/350ᵒF/gas mark 4.
Cream together the butter and sugar until light and fluffy. Whisk in the eggs one by one, then fold in the spelt flour and baking powder. Add the desiccated coconut, zest and juice from the limes, and the milk. Stir until just combined. It should not be stiff or runny but have a soft dropping consistency. Spoon into the prepared cake tin and level out the top. Bake in the oven for around an hour until risen, golden and slightly cracked on top. You know it's ready when a skewer comes out clean from the middle of the cake. Leave to cool for a few minutes before removing from the tin.
While the cake is baking, make the curd filling. Put the caster sugar, butter, eggs, lime zest and juice, and the passion fruit juice into a heat-proof bowl and set over a pan of simmering water. Whisk the mixture continuously until it becomes thick and coats the back of a spoon. This will take 15-20 minutes. Don't stop whisking or take your eye off it, as it can curdle easily if the mixture gets too hot; too little heat and it won't thicken at all. Once the mixture has thickened, strain it through a sieve and refrigerate until you are ready to decorate the cake.
To make the icing, beat together the golden icing sugar and butter until light and fluffy. Add the passion fruit juice and coconut cream (if you are using it) and continue to beat until whipped and smooth.
To decorate, slice the cooled cake into three equal layers. Spread the curd in between each layer then spread the icing all over the top and sides of the whole cake. Smooth the surfaces with a palette knife, then decorate with the lime zest, toasted coconut flakes, edible flowers (if using) and reserved seeds from the passion fruit.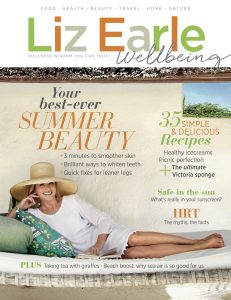 For more delicious and nutritious recipes to see you through the spring season, subscribe to Liz Earle Wellbeing Magazine, with free P&P.
Wellbeing Wisdom
As well as providing a nutty flavour, the spelt flour in this cake contains magnesium and iron.