The feel-good factor with Becky Mantin
Becky Mantin, ITV weather forecaster, mother of two small boys and keen sailor, surfer and runner, has launched a new business designing baby travel products which aim to make getting out and about with small children easier, simpler, faster and greener.
Top tips for feeling good?
With two small boys, a demanding day job and a new business launching I'm certainly in the rush hour of life! I used to feel overwhelmed and guilty that I wasn't doing any of my various roles well enough. Then I heard Kirstie Allsopp say "you can have it all, but you can't have it all at once" – life changing! Now I'm all about prioritising, with my family firmly placed at the top of the list. Every decision I make passes through a 'family filter' in my brain – if it negatively affects them in any way, I simply say no. It takes practice but allowing myself to concentrate on what matters most to me at this time in my life is very liberating and nothing makes me feel better than knowing that I'm focusing utterly on doing the very best for my family.
Top tips for looking good?
Undoubtedly more water, more sleep and less sugar make a huge difference – and being such simple and obvious things makes them even easier to overlook, I think! When I'm not working I adore being outside; I run as much as I can and I'm hugely looking forward to taking the children rock climbing, surfing and sailing when they're a bit older. Being in the fresh air gives the skin a glow that is impossible to fake. I rarely wear make up when I'm not working to let my skin breathe and, since turning 30 and promising my mother I'd try to be a proper grown up, I now take the time to cleanse my face properly – Liz Earle's Superskin Concentrate saves my face on a nightly basis!
And doing some good along the way?
Like so many women, my life changed almost unrecognisably when I became a mum. For years I'd see parents out and about, juggling children and work and putting every ounce of their energy into giving their offspring a happy, loving, secure start to life. It's only now – having been blessed with such a childhood myself – I realise just how much goes into that task. I feel passionately that families should be better supported financially, emotionally and practically and that the role of caregiver should be given proper recognition and respect.
I'm currently launching a new business manufacturing baby travel products that make it easier, simpler, faster and greener to get out and about with your little ones. Our first product, the Nappy Grab Bag is a complete, individually wrapped nappy change kit that fits in your pocket.  I want this business to not only help parents on a day-to-day basis by giving them just one less thing to think about, but for it to also become a vehicle to help and support vulnerable families. This is why 10% of company profits will go to charities doing just that, such as Meningitis Now. You can read the story behind the product and the inspirational partners we're working with at Becky Mantin Products.
Your life motto?
I'm a huge fan of Gretchen Rubin's books The Happiness Project and Happier At Home. In them she writes "the days are long but the years are short", and that phrase zips through my head many times each day. I consider myself an incredibly lucky person and make a point of counting my many blessings as often as I can – when life is racing by, it's so good just to pause and simply relish being in the moment.
Loved this? Read on here:
– The feel-good factor, Kit Kemp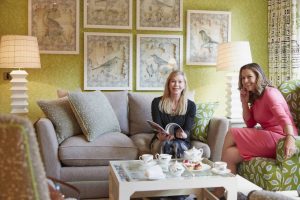 – The feel-good factor, Rupert Penry-Jones