Discover the charity using yoga to help young Kenyan mums
February, 2015. Liz writes:
I'm back in East Africa visiting charity projects I have a connection with, either through funding from the charity I founded called LiveTwice, or charities I am Patron of, such as Ace Africa and Restart Africa. Over the years of being involved with philanthropy and humanitarian aid, I've found the best way to ensure funds are going to the right places and people is the get out here and take a first-hand look. It also enables me to get up-to-date information on those I work as an advocate for – and to be able to spotlight those in need via reports like this.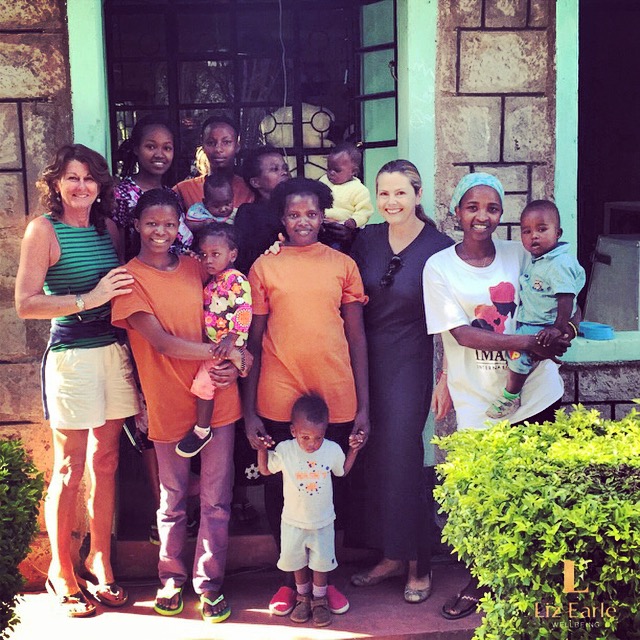 I primarily spend my time visiting projects I know and already support, but occasionally I'll come across a new venture that strikes me as especially worthwhile – as happened this week with a visit to Imara International in Nanuki, Kenya. The Imara safe-house was founded 2012 by teacher Carol Erickson after a visit to Kenya when she realised that there were no organisations designed to help teenage girls who found themselves pregnant through rape or abuse and who chose to keep their babies. She decided to open a house for such girls with education for both mother and child being the primary focus. The girls are referred to Imara by local hospitals, children's officers, social workers and churches. There are currently ten girls living at Imara House, all with healthy, happy, smiley babies. Such is the demand that Imara could easily take in ten times this number if they had bigger premises. As it is, the girls (and their babies) all share one room, each with a bed that they share with their baby (and their babies are getting bigger too!).
The girls receive a combined Kenyan and US education, as well as learning useful life skills such as sewing, hairdressing, beauty therapy, cooking, baking and crop cultivation. They even have a successful baking enterprise selling bread, cupcakes and very delicious cookies (tried and tested!) through a local farmers' market and restaurant called Cape Chestnut. Volunteers from the local community and BATUK (British Army Training Unit Kenya, which has its base in Nanyuki) lend their skills in assisting with teaching, marking papers and leisure activities such as yoga. In fact, it was my good friend and yoga teacher Celia (with me in this pic) who introduced me to Imara.
It's an impressive and valuable refuge, run by a volunteer Sandy Skorczewski, who is director of business administration and a young Kenyan couple, Jane and Reuben, are the senior in-site staff.  Jane, a fully qualified teacher, acts as 'house mother' with a further three full-time assistants: Anna, who is also a trained teacher, Florence who helps with the babies and Jackie, the cook and kitchen manager. Relying entirely on donations (there is no welfare safety net out here) I'm hoping that my team at LiveTwice will be able to help support in the future. The vision of Imara is "Empowering Kenyan women though education to build a self-sufficient future for themselves, their children and their community" which clearly chimes with the objectives of LiveTwice too.
Loved this?
Read more about the work of Imara International and Liz's charity Live Twice