Login to view this article
A few of our features and recipes are exclusive for our newsletter friends here at Liz Earle Wellbeing. If you'd like to join them, it takes seconds to sign up, it's completely free to do so, and you'll receive:
Instant access to all our website content
A personal 'My Wellbeing' page to save your favourite recipes.
A monthly newsletter where you'll be the first to find out about our exclusive offers, events and competitions.
Honey and vanilla cupcakes with fig and goat's cheese icing
Ingredients
For the Cakes
125g salted butter
125g caster sugar
2 large, organic, free range eggs
125g self-raising flour
2 tbsp honey
1 vanilla pod or 1 tsp essence
For the Icing
150g soft goat's cheese
50g icing sugar
2 tbsp honey
Fig jam or conserve
3 fresh figs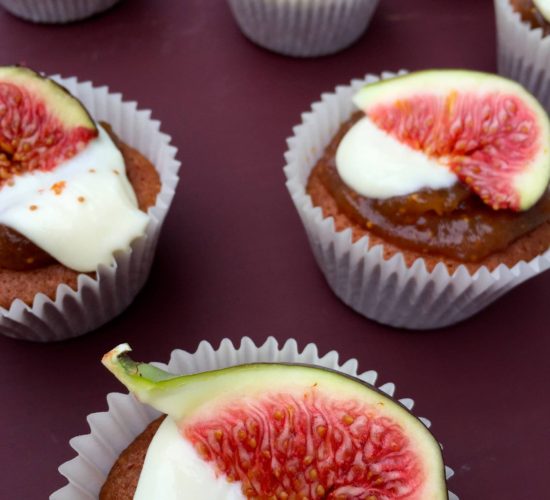 Goat's cheese has been enjoying a healthy revival over the past couple of years and, inspired by this, we have come up with a delicious recipe that is sure to surprise you. The cheese and figs are a match made in heaven, and between them contain numerous health benefits.
Method
Preheat the oven to 180°C/350°F/gas mark 4.
Mix together the butter and self-raising flour to a soft and creamy consistency. Slowly add the eggs, flour, honey and vanilla seeds and mix well.
Spoon an even amount of the mix into the 12 cupcake cases and bake for 18-20 minutes.
While your cakes are cooking, take a clean bowl and mix together the soft goat's cheese, icing sugar and honey until it reaches a silky, shiny consistency. Place the icing into the fridge to cool.
Once the cakes have completely cooled, spread a layer of fig jam onto the top of each cake, followed by a dollop of the delicious goat's cheese icing. Top the cakes with a slice of fresh fig, et voilà – a delicious afternoon treat for the whole family to enjoy!
Wellbeing Wisdom
Goat's cheese is around a fifth lower in calories than cow's milk cheese, as well as slightly higher in protein and bone-strengthening calcium
The potassium in figs helps reduce blood pressure by balancing out the bad effects of salt and aiding the kidney to reduce the amount of fluid in our bodies