Homemade tagliatelle with pistachio pesto
Ingredients
For the pesto
150g pistachios
120ml olive oil of choice
4-5 leaves fresh basil
30g Parmesan
1-2 cloves of garlic
1/2 lemon, juice and zest
Salt and pepper
For the pasta
250g durum flour
125ml water (35°C/85°F temp)
To serve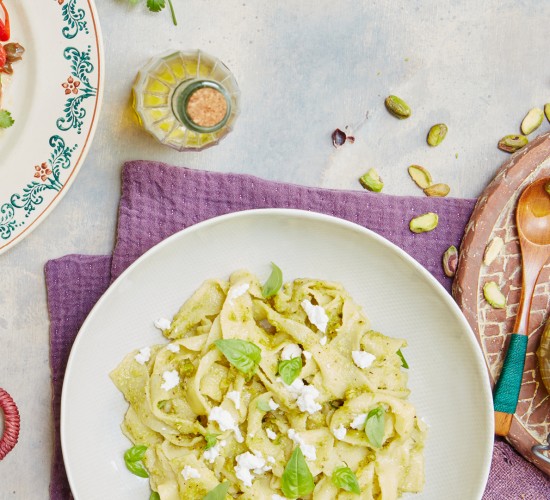 Sicilian cooking is all about using simple, fresh ingredients, and homemade pasta has to be one of the most satisfying dishes to accomplish. Fresh, homemade pesto is a simple, flavoursome accompaniment that is far healthier and more flavoursome than a shop bought equivalent.
Method
Blend all the ingredients for the pesto together in a food processor, adding more olive oil to loosen the mixture if necessary.
To make the pasta, dissolve the salt in tepid water in a jug. Into a large bowl, add the flour and pour in the salted water. Mix with a fork until it just comes together and then start to knead by hand (or use a dough hook, which will take less time) for 10-15 minutes until you have a smooth dough. If you prefer, you can turn out the dough on to a floured surface to knead.
To check if it's ready to use, press your thumb firmly into the dough and the imprint should not start to spring back. When rolling pasta, work on a cool, floured surface and keep the dough you're not using covered with a damp cloth to prevent it from drying out.
Roll the pasta out thinly. If it's sticky let it dry for 5-10 minutes. Using a sharp knife and a straight edge, cut 1cm strips out of the dough. You can experiment with different shapes of pasta, just try not to work the dough too much.
To cook the pasta, boil some salted water and put the pasta in for a few minutes until it's cooked through. Mix the pistachio pesto through the freshly cooked tagliatelle and crumble over the ricotta cheese.