Herb-coated lamb with baby roast potatoes
Ingredients
For the main dish
750g baby new potatoes
2 tbsps rapeseed oil
3 garlic cloves, squashed with a knife
½ small bunch thyme
2 rosemary sprigs, leaves stripped
2 racks of lamb
1 tbsp olive oil
For the herb coating
1 tbsp English mustard
Large bunch mint, finely chopped
Small bunch flat leaf parsley, finely chopped
1 garlic clove, finely chopped
1 lemon, zest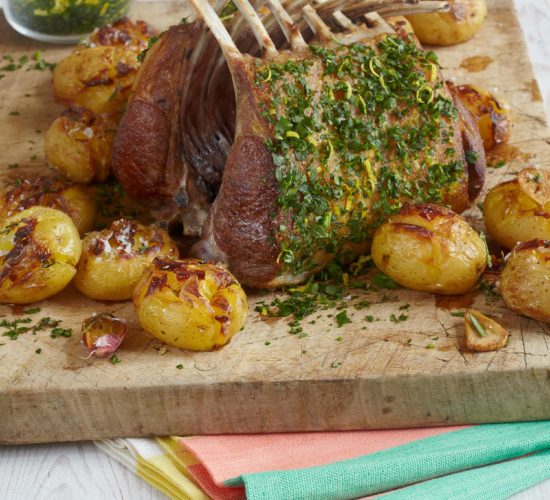 This herb-coated lamb recipe makes a tasty, simple and quick roast. So even if you've enjoyed a Sunday lie-in, it's not too late to treat yourself at lunch too.
Liz writes:
Roast lamb is my family's favourite Sunday lunch and we reserve a rack of lamb for high days and holidays. This recipe is as impressive as it is easy to put together, and looks fantastic at the centre of the table – ready for hungry mouths to dig in!
Method
Preheat the oven to 200°C/400°F/gas mark 6.
Cook the potatoes in a pan of boiling, salted water for 8 minutes, or until just tender. Drain well and tip into a large roasting tin. Lightly crush the potatoes with a masher then drizzle over the rapeseed oil, and throw in the garlic cloves, thyme and rosemary leaves and plenty of seasoning. Roast for 45 minutes-1 hour, or until the potatoes are crisp on the outside and soft in the centre.
When the potatoes have been roasting for 35 minutes, rub the lamb all over with olive oil and season with plenty of salt and pepper. Heat a large frying pan over a medium-high heat and brown the lamb all over for about 5 minutes. Transfer the lamb to a roasting tray and roast for about 15-25 minutes, depending on how pink you like your meat.
Remove the meat from the oven, cover loosely with foil and allow to rest for 5 minutes. Brush the outside of the lamb with mustard, and mix the herbs, garlic and zest together in a bowl before patting onto the lamb. Serve any excess herbs on the side with your crunchy roast potatoes and your choice of vegetable.
Wellbeing Wisdom
Lamb is a good meat to choose for global environmental sustainability
It's important for us to all be aiming to buy pasture-fed, organic lamb when we can
Studies show that pasture-fed lamb is significantly higher in omega-3 fatty acids