Competition closed: Win an olive oil bundle worth over £50!
Win a bottle of The Governor Premium Olive Oil and a copy of The Real Mediterranean Diet by Dr Simon Poole!
We've five prizes worth over £50 up for grabs – don't miss your chance for this wonderful wellbeing bundle.
About your prize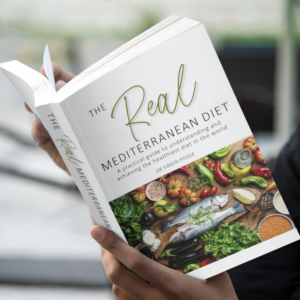 The Real Mediterranean Diet, written by Dr Simon Poole, is an exploration of the value that the Mediterranean diet and lifestyle can bring to everyone. From its origins in Ancient Greece to the modern day understanding we now have of its benefits, this book joins the dots to show the power and benefits of the Mediterranean diet.
Discover the science that underpins the Mediterranean diet and its positive impact on heart health, longevity and protection from inflammation, heart disease, cancers, dementia and more. You'll also find numerous recipes from leading chefs from around the globe who are advocates of the Mediterranean Diet.
As the ultimate companion to this essential read, our winners will also each receive a bottle of The Governor Premium Olive Oil. The brand's early harvest extra virgin olive oils from Corfu are considered to be one of the healthiest in the world. The first to be granted a EU health claim, it's supercharged with naturally occurring anti-inflammatory, antioxidant and antiviral compounds.
It's a robust EVOO with a gentle grass aroma and a peppery finish. Its velvety mouthfeel and incredible length and complexity adds a layer of taste and luxury to any meal. Only 8500 hand numbered bottles are produced per annum.
Terms and conditions
This competition is open to everyone except for Liz Earle Wellbeing and The Governor Premium Olive Oil employees and contractors (and their families), their associated companies, agents and anyone directly connected with the organisation, and operators of its brands.
Competition is open to UK and RoI residents aged 18 or over.
Entrants may be contacted by Liz Earle Wellbeing and The Governor Premium Olive Oil in connection with this offer, and will be asked if they wish to opt in to receive marketing communications from Liz Earle Wellbeing and The Governor Premium Olive Oil. We never share marketing data with anyone else and you can unsubscribe at any time. You can read our privacy policy here.
The winner's details will be shared with The Governor Premium Olive Oil so that they can arrange their prize.
A limit of one entry per person will apply.
No bulk, third party or automated entries are accepted.
No responsibility is accepted for any entries that are incomplete, lost or delayed or are unable to be handed in because of any technical fault or other reason.
The start date of the competition is October 11th 2021 and the closing date for entries is October 25th 2021.
Five winners will be selected at random after the competition has closed and will each receive one copy of The Meditterenean Diet by Dr Simon Poole and a bottle of The Governor Premium Olive Oil.
The winner may be requested to take part in publicity.
The prize is non-transferable and valid upon confirmation with The Governor Premium Olive Oil team.
The prize cannot be exchanged for a cash prize and we reserve the right to replace the prize for one of equal value without notice.
The winner will be contacted via email in November by the Liz Earle Wellbeing team. If no response is received by the Wellbeing team from the winner within one week of our email, we cannot guarantee that the prize will still be available.
Liz Earle Wellbeing registered office: Beech House, Bank, Lyndhurst, Hampshire SO43 7FD, United Kingdom