Unique pumpkin carving ideas
The custom of pumpkin carving for Halloween has been around for centuries. Yet, while the illuminated faces were originally intended to ward off evil spirits, nowadays they're largely decorative. One thing hasn't changed, though. Pumpkin decorating is still a great stay-at-home activity for all ages!
Whether you're in the mood for chic or nostalgic, we've got you covered with our list of unique pumpkin carving ideas.
Pumpkin carving ideas to try at home
Painted pumpkins
We love to have painted pumpkins on display as a seasonal ornament.
You will need: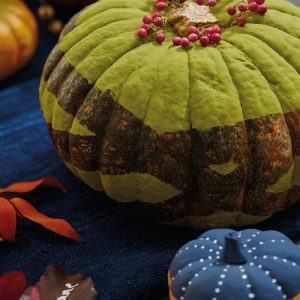 A pumpkin
Masking tape
Leftover wall paint or wall paint testers
Metallic Spray paint
Decorative berries or foliage (optional)
Using masking tape as a stencil, plan where you want to paint or spray, and where you would like the pumpkin's natural colour to show through.
Paint or spray areas of the pumpkin that you wish to cover, then leave to dry fully before removing the masking tape.
Top with berries or foliage of your choice.
Glamour pumpkin
For a glamourous twist, dress up your pumpkin in lace, tulle or any other surplus fabric you have lying around the house – even a pair of stockings will work! 
You will need:
A pumpkin
White or neutral acrylic paint
Material
Elastic band
Embellishment, such as rhinestones or pearls
Ribbon (optional)
Hot-glue gun

Paint your pumpkin and let it dry for fifteen minutes to one hour depending on size.
Once fully dried, wrap the pumpkin in the material.
Trim the excess material, and tie with an elastic band at the stem.
Use the hot-glue gun to add your choice of embellishments.
Finish with a ribbon, if desired.
Pumpkin luminary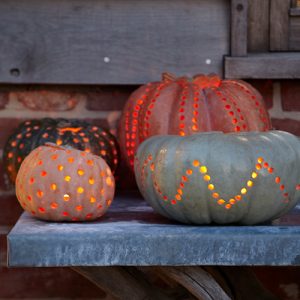 Featuring mesmerising geometric designs, this carving idea inspired by embellished paper luminaries is a chic alternative to the classic Jack-O'-Lantern.
You will need:
A pumpkin
Knife and spoon
Electric drill
Chalk pencil
Candle or tea light
Carefully cut a circular cap out of the top of your pumpkin with a knife and remove the contents with a spoon.
Mark out the holes of your design with a chalk pencil.
Use an electric drill to make the desired holes, changing the drill bit size appropriately.
Add a candle or tea light to illuminate your pattern!
Dried flower pumpkin
Whether you want your pumpkin in full bloom or just lightly crowned, adding dried flowers is a fantastically versatile option which always yields gorgeous results.
You will need:
Choose your blooms.
Plan out your pattern.
Apply hot-glue to the back of the flower.
Press the flower gently onto the surface of your pumpkin, holding for a few seconds.
Repeat until your design is complete.
Succulent gourds
These are a truly unique way to use up small gourds with on-trend succulents.
You will need: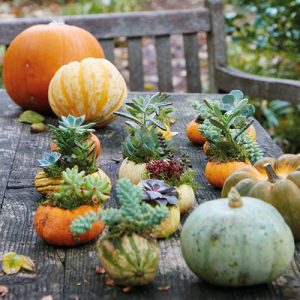 Small succulents and moss
Gourds
Knife and spoon
Using a knife and spoon, hollow out the gourds.
Pack out the hollowed-out shells with moss and one or two small succulents.
Place the gourds on saucers if they're going to sit on a surface for an extended period, as they may leave a stain as they age. Our gourds lasted a few days and the succulents went on to find a permanent new home in a terrarium.
Tissue paper pumpkin
 Using a technique reminiscent of papier-mâché, this fun carving alternative is a grown-up version of the favourite childhood craft which the whole family can enjoy.
You will need:
A pumpkin
Scissors
Tissue paper
PVA glue, plastic cup and foam brush
Cut the tissue paper into 4 inch wide strips and fold several times.
Draw and cut your desired shape, such as a leaf, from the strips, repeating with additional colours of paper.
Add a teaspoon of water and PVA glue each to the plastic cup and mix with the foam brush until you achieve a frothy consistency.
Apply the mixture to the pumpkin, adding your tissue paper on top.
Add another layer of glue on top of the tissue paper, checking the edges are stuck down.
Pumpkin vase
A simply beautiful way to display flowers, we used dahlias straight out of the garden.
You will need: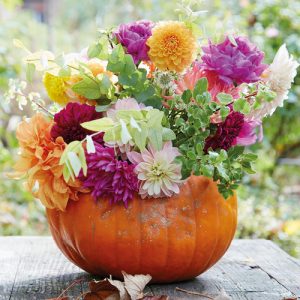 Seasonal flowers
A large pumpkin
Jar, glass or small vase
Knife and spoon
Cut a reasonable-sized cap out of the top of the pumpkin with a knife, then hollow out the innards using a spoon.
Place a jar or vase filled with water inside the now empty pumpkin.
Fill with flowers of your choice, then place the pumpkin on a plate if it is going to remain in the same spot, to avoid staining the surface below.
Read more features like this