The HRT shortage: what you need to know
The HRT shortage in the UK has been an increasing problem over the past year, with thousands of women struggling to find prescriptions for tablets and patches and often being turned away from their GPs with no answers.
It's something we receive comments about daily on our social media pages at Liz Earle Wellbeing and, as you know, we're committed to bringing you the best information and options to help you navigate the menopause.
But just why exactly is there a shortage, and what can you do while waiting for stocks to replenish? We've caught up with menopause expert, Dr Louise Newson, founder of My Menopause Doctor, to find out more.
Why is there a HRT shortage?
It's thought that the HRT shortage started as far back as 2018, and has become an even greater problem in recent months as brands of patches such as Evorel have now gone completely out of stock.
"It started with a manufacturing problem of combination tablets, but the shortage of patches is a big issue too," explains Dr Newson. "It seems to be more of a problem in the UK than anywhere else and I think a lot of this is down to people like myself, Liz Earle, Diane Danzebrink and Meg Mathews championing the safety of HRT patches and gels.
"More and more women are realising the health benefits of HRT – such as protecting against osteopororisis and heart disease – along with an increasing awareness that HRT gels and patches are safe. This has caused an increase in demand that manufacturers just haven't been able to keep up with."
When this increase in demand is combined with a number of manufacturing issues for both tablets and patches, more women have seen their prescription change from one brand to another. This has placed even more strain on the remaining stocks.
2020 HRT update
But hope is on the horizon. Pharmaceutical company Theramex took over production of Evorel from Janssen in November 2019 and has fast tracked the process of production.
Evorel Mono 50 and Evorel Conti was made available at Pharmacies on Friday 14th February 2020.
Please see below the most up to date stock availability dates for the Evorel HRT product line:
Evorel Mono 50 14th February 2020
Evorel Conti 14th February 2020
Evorel Mono 25 March 2020
Evorel Mono 75 March 2020
Evorel Mono 100 March 2020
Evorel Sequi End March 2020
What about HRT tablets?
The shortage of combination tablets being manufactured has forced many women to swap their presciption for different alternatives. But, as Dr Newson explains, she doesn't necessarily think this is a bad thing.
"If you're on HRT, now is a good time to see if you're on the right HRT for you," she says. "A lot of women are taking estrogen as an oral combined tablet and these pose a small increased risk of clot.
"These aren't usually now the first line of recommended treatment. As women may be taking HRT forever, it's much safer to have estrogen as a gel or a patch as there is no increased risk of clot with these products."
How to find the right HRT
When looking for gels or patches, opt for a body-identical estrogen. Body-identica HRT is often described as the safest form of HRT as the active estrogen in these treatments (called 17-beta-oestradiol) has the same molecular structure as the estrogen that decreases in our bodies during menopause and is derived from yams.
For those taking estrogen or combination pills, you may benefit from switching to a body-identical estrogen patch or gel, plus Utrogestan, a body-identical progesterone that's also made from yams.
You may find that the term 'body-identical' isn't something your GP is overly familiar with, but they are something that's usually available from the NHS.
When it comes to finding the right HRT, it's fair to say that there's a lot of information out there and not all of it is helpful.
If you're still not quite sure about your options, do take a look at the guide on The Menopause Doctor website. Here, Dr Newson and her colleagues break down each type of HRT so you can weigh up which sounds best for you, and go armed to your GP with information.
"My guide on my website also lists the different ingredients included in each brand," explains Dr Newson. "This way, you can take a look at the ingredients of one brand and compare them with others to help you find different alternatives. This can be really useful to go to your GP with."
What HRT is available?
Before heading to your GP, it's also important to know what HRT treatments are currently available. While there's a problem with patches in the UK, the good news is that estrogen gel in the form of Oestrogel is still available.
"I've had many women tell me that they can't get hold of this gel, but it is usually out there," says Dr Newson. "My recommendation would be to shop around to different pharmacies. If your GP or pharmacist is telling you it's not available, go elsewhere."
Estrogen gel, micronised progesterone and testosterone-based treatments are all currently available in the UK, and you can keep up to date with the products that are in stock via the British Menopause Society website.
What to do during the HRT shortage
1. Give yourself time
Request your repeat prescription well in advance of running out. If you need to change from one type of HRT to another, your GP may want to see you for a check up and take your blood pressure. Even when you have your new prescription, pharmacies may not have your medication in stock and will have to order them for you.
2. Check availability of HRT online
Check whether your usual HRT is out of stock in the UK by visiting the British Menopause Society website. If it's out of stock you may want to request a different brand or type of HRT.
3. Find an alternative HRT
If you discover your usual HRT is out of stock, check the guide on The Menopause Doctor website to find what alternative brands offer the same ingredients. Then check whether this new brand is still available. This way you'll be able to ask your GP for an alternative you know you can get.
4. Shop around different pharmacies
If your HRT is still available in the UK, but isn't available through your usual pharmacy, do ring around. Other pharmacies may have some in stock, or can order it for you and you may even find you can order it online from places like Lloyds pharmacy or Oxford Online Pharmacy. You may find this a long process, but it's much quicker than going from pharmacy to pharmacy with your prescription in hand.
5. Don't give up
If you still can't get hold of the HRT you're looking for, don't be afraid to go back to your GP and ask for a new prescription of a different brand or to switch to a different type of HRT. There are still HRT brands available, you may just need some help to find the right one for you.
Discover The Truth about HRT, by Liz Earle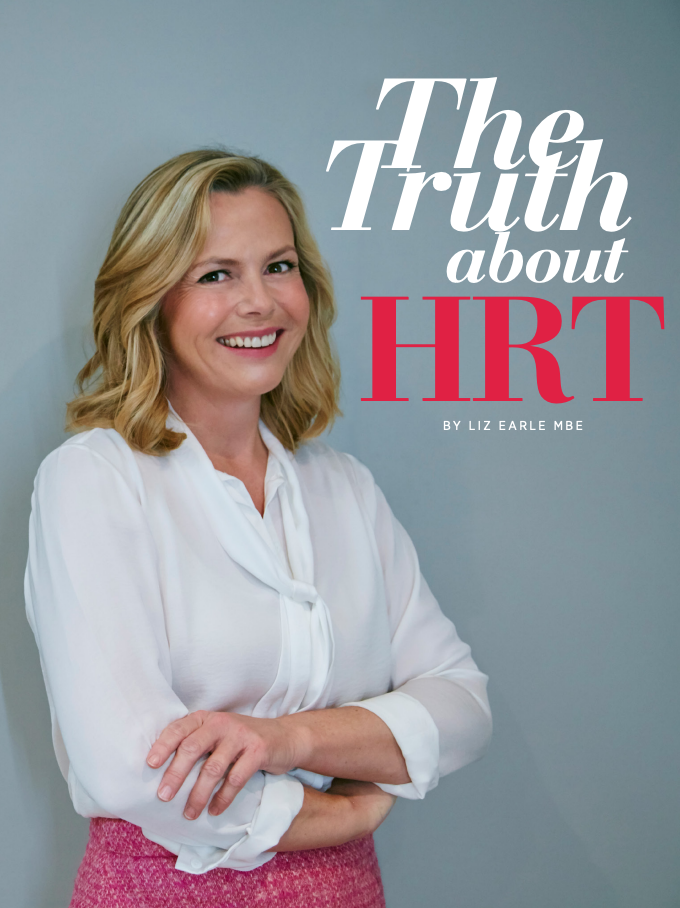 Liz's bestselling e-book uncovers the truth about HRT. The aim of this guide is to give all women affected by menopause symptoms, as well as their medical advisors, the most up-to-date, relevant and helpful information on HRT to inform choices that significantly improve long-term health and wellbeing.
Read more information about the menopause