Our summer pick of good reads
Dive into our selection of good books to see you through the summer – be it a holiday read, page-turner or something to inspire you in snatched moments during the working week.
Self-care for the Real World – Nadia Narain and Katia Narain Phillips (£16.99, Hutchinson)
Not everyone has time for a long, candlelit bath every night, or a weekly massage. But as Nadia and Katia point out in their accessible new book, 'self-care' isn't necessarily about indulging in life's luxuries; it can be about cultivating everyday habits to help us navigate the world a little better. Dancing on your own, making mealtimes sacred, and taking an invigorating shower with peppermint oil are just some of their ideas. It's a reminder that looking after ourselves may actually be one of the kindest, least selfish things we can do.
Eat Happy – Melissa Hemsely (£20, Ebury Press)
This colourful, joyful cookbook is Melissa's solo debut and what a triumph it is. Packed full of inspired yet fuss-free recipes, it's a really celebration of wholesome, feel-good food. You'll find yourself tabbing many a dish for a quick weekday supper. With chapters including nourishing bowl food, filling vegetarian mains and vibrant salads, Melissa also offers new, exciting ways with meat and fish. There's no suggestion of restriction here, just nutritious, clever recipes that take under 30 minutes to prepare. Our favourite recipes include grilled mackerel with tamarind ginger greens; lentil and bean chilli with guacamole; and a moreish broccoli, pea and feta dip.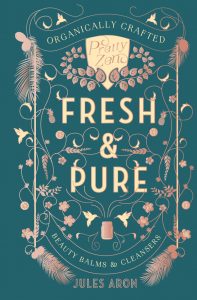 Fresh & Pure – Jules Aron (£12.99, Countryman Press)
Beauty and wellness may start on the inside, but that's not to say looking after our 'outside' isn't important too. With that in mind, this gorgeous, fabric-bound book is  a great place to start -especially if you're interested in all-natural, organic skincare. The pages are filled with simple-but-effective 'beauty' recipes for creams and potions. It's a wonderful introduction to nature's apothecary, with botanicals, plants, fruits and flowers taking centre stage. Recipes include a vitamin C serum, natural dry shampoo, after-sun relief spray, and holy basil mouth rinse.
Alone Time by Stephanie Rosenbloom (£16.99, Bantam Press)
This beautifully written book is a celebration of solitude. In an age when we are forever connected to family, friends and colleagues – be it via social media or in our day-to-day lives – the thought of spending time alone, particularly in an unknown place, can seem daunting. But Stephanie, travel columnist at The New York Times, argues that solo travel gives us permission to slow down and re-evaluate, as well as making space for creativity. It interweaves Stephanie's solo-travel stories with relevant research from psychologists, and old-age wisdom from artists, writers and innovators.
Ivy and Abe by Elizabeth Enfield (£12.99, Michael Joseph)
This Sliding Doors-esque love story tells the story of Ivy and Abe, childhood friends in the 1960s. After being torn apart young, we meet them again in their early 70s, when fate brings them back together. Both have experienced a lifetime of love, heartbreak and tragedy, but what if things had been different? As we navigate the various ways Ivy and Abe could have come together – be it as love-struck tenagers or married people in their 40s who start an affair, you can't help but muse on the fragile relationship between romantic connections and chance.
Loved this? Read on here:
– Wellbeing bedtime reading list