The best Christmas beauty gifts 2021
Searching endlessly for Christmas gifts that beauty lovers will actually like? With the countdown to Christmas officially on, it's time to pop your Santa hat on and get gifting.
Luckily, we've done all the internet sleuthing for you to find the best beauty products around. From the latest haircare must-haves to gorgeously ethical skincare products, we share our pick of the best beauty gift ideas for Christmas 2021.
Our pick of the best Christmas beauty gifts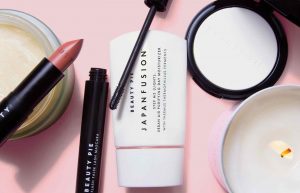 The gift that keeps on giving, a Beauty Pie subscription gives access to its luxury and premium products at a snip of the price. Loved by Liz, skincare gurus and the Wellbeing team alike, this one-of-a-kind brand is brought to you by serial beauty entrepreneur, Marcia Kilgore. Marcia is also the brains behind Soap & Glory, Bliss Spa and FitFlop.
With a subscription, your recipient will be able to shop a number of Liz's all-time favourite products, like Uber Youth Super Serum, the Super retinol vitamin C night renewal moisturiser and One Powder Wonder Uberlucent, whenever they fancy without expensive price tags.
A yearly PLUS subscription costs just £59 – or you can pay monthly at £15. Plus, you can get £10 off both with the LIZLOVES code as a new member. When using with the PLUS package, you will get your annual membership for just £49, which works out at less than £5 a month. It's a no-brainer!
Find out more about Beauty Pie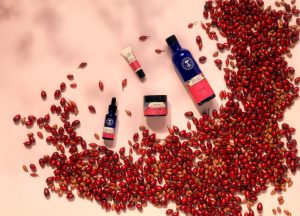 Neal's Yard Remedies has long been a go-to of ours when it comes to Christmas gifting. If you aren't familiar with the brand, Neal's Yard Remedies is a modern apothecary, creating award-winning natural and organic health and beauty since 1981, originally established in a quiet corner of Covent Garden. From soothing essential oils to refreshing toners and misters, there's something for everyone. 
For anyone making their first foray into the brand, the Award Winning Skincare Set will be a perfect introduction. Containing the award-winning and beloved Wild Rose Beauty Balm, White Tea Facial Mist, Beauty Sleep Concentrate, and Reviving White Tea Face Mask, it also comes in a 100% organic cotton bag. It's perfect for weekends away in the new year.
Use the code LIZLOVES for 15% off full-price items in your order.
Find out more about Neal's Yard Remedies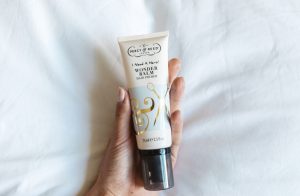 Who doesn't love finding a haircare gift set under the tree? Percy & Reed, a brand created by two of London's leading hairdressers, Paul Percival and Adam Reed, is full to the brim of ingenious multi-benefit hair products to take locks from 'oh-so-dull to ooh-la-la' this Christmas. 
We love the All Kinds of Wonder-ful Collection. This set contains I Need A Hero! Wonder Shampoo & Conditioner, I Need A Hero! Wonder Balm Hair Primer, I Need A Hero Wonder Overnight Recovery Mask and the 'Dream On' Sleep Mask, which are suitable for all hair types and lengths.
You can use the code LIZLOVES for 20% off single Percy & Reed products, too.
Find out more about Percy & Reed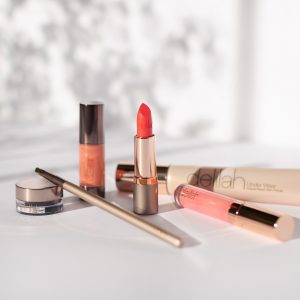 Nothing signposts the festive season more than a little bit of glitter, and the shimmery lid shades from Delilah Cosmetics are just the ticket.
With a collection of nine cool shades of glittering golds, slate greys and matte pinks presented in a rose gold compact wrapped in a velvet pouch, the Colour Intense Eyeshadow Palette will see the recipient through Christmas to New Year and beyond. 
Each shadow is also formulated with micro pigments for lasting wear and intense colour pay-off, seamlessly blending for a professional finish.
Want a discount to keep Christmas costs down? You can use code LIZLOVES for 20% off (single products only).
Find out more about Delilah Cosmetics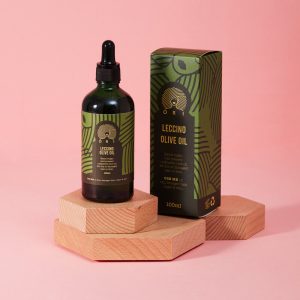 Founded by Titilolami Bello, ORI adopts a holistic approach to afro hair and skincare. Products are made with the highest quality ingredients to support healthy hair and skin, as well as your overall wellness. 
We love ORI's Leccino Olive oil. You can use this wonder oil as an overnight treatment on dry hair, as a hot oil treatment or as a makeup remover. Not only is it created for all skin and hair types, it's rich in vitamin A, D, E and K, which are all known for their nourishing properties.
Plus, 50p of every product purchased is donated to Path to Possibilities. The charity provides full scholarships to help disadvantaged children in Nigeria.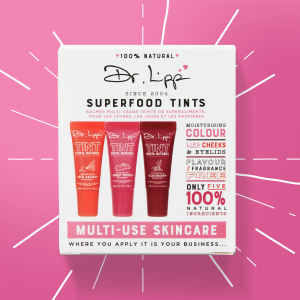 Dr Lipp creates hydrating lip balms that are entirely natural. The balms use purified lanolin – one of Liz's all-time favourite skin-soothing ingredients.
This multi-pack features all three of Dr Lipp's Superfood tints, with 100% natural plant-based pigments. Perfect as a stocking filler, you'll find Red Radish, Sweet Potato and Elderberry. You can also purchase the lip tints separately here.
These contain just five ingredients, and are free from parabens, fragrances, sulphates, mineral oil, petrolatum, colouring agents, T.E.A, D.E.A, and silicones. You can be sure you're gifting no nasties this Christmastime.
Use the code LIZLOVES for an exclusive 20% off your order.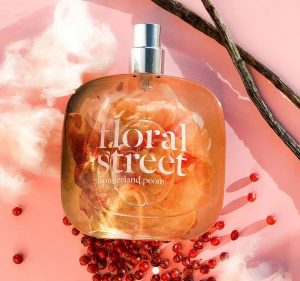 Since its launch back in 2017, Floral Street has been on a mission to create gorgeous, vegan and cruelty-free perfumes with sustainably sourced ingredients. Floral Street's packaging also gets eco-credentials, being reusable, recyclable and compostable.
With armfuls of peonies, pink berries and violets, the brand's best-seller (and award-winning) Wonderland Peony fragrance makes the perfect luxe and sophisticated gift for the beauty lover in your life. 
Priced at £60 for 50ml for the perfume, you could also add Floral Street's bath and body set to your online basket. This includes a buttery yet fast-drying body cream and a nourishing body wash in the same scent (currently priced at £30, down from £48). Divine.
Find out more about Floral Street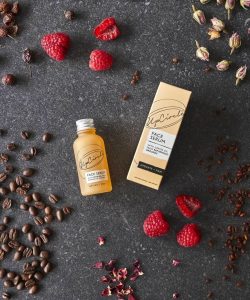 If you haven't heard of UpCircle, it's time to put the company on your radar. UpCircle never uses any SLS, SLES, palm oil, silicones, parabens, mineral oil, parfum or sulfates in its products. And in a unique twist, it also makes use of 'upcycled' ingredients, such as coffee grounds, fruit waters and chai spices. What's more, its packaging is all 100% recyclable and ocean-friendly.
The beauty brand's £14.99 organic face serum with coffee oil has heaps of five star reviews, and has scooped numerous awards since its launch. 
The hydrating serum is suitable for all skin types with jojoba, sea buckthorn and rosehip oils. When used morning and night, it can help boost collagen and keep skin feeling firm. It is also rich in vitamin C, antioxidant-rich coffee and rosehip oils to help fade dark spots and scars, while brightening the complexion.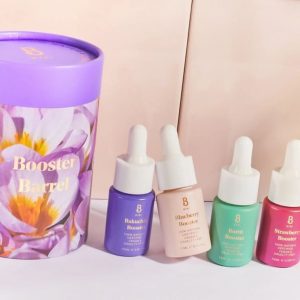 BYBI Beauty uses only raw materials and is 100% natural, vegan and cruelty-free. It has also pledged to soon be a net zero carbon brand. Featuring four of BYBI's boosters – Bakuchiol, Strawberry, Blueberry and Buriti, the limited edition barrel set is perfect for all seasons, skin sensitivities and needs.
These little boosters from the highly covetable brand can be dropped into moisturiser or applied directly to the skin to target different skin concerns, such as dryness, dullness and more. 
This £38 set, worth £48, is packaged in an eco-friendly barrel, which your recipient can reuse for anything from a pen pot to even a make-up brush tidy.
Find out more about BYBI Beauty
Read more articles like this
Please note, on some occasions, we earn revenue if you click the links and buy the products, but we never allow this to bias our coverage and always honestly review. For more information please read our Affiliate Policy.