Valentine's Day gifts and ideas 2021
With Valentine's Day just around the corner, giving beautiful gifts can be the perfect way to show your loved one how much you care.
We've rounded up some of our favourite Valentine's Day gifts that you can spoil your nearest and dearest with – with a little inspiration that you can drop hints for too! Plus look out for our exclusive Liz Loves discount codes – find a full list of our discounts here.
Valentine's Day Gifts for her
Mangrove earrings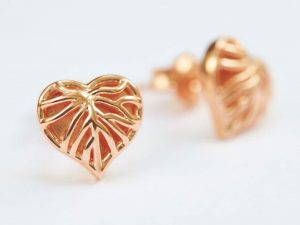 Designed by Liz, the gorgeous Mangrove earrings from Liz Earle Jewellery make the perfect Valentine's Day gift.
Influenced by Liz's travels to Kenya and her fascination with all things botanical, these elegant, easy-to-wear earrings are inspired by the mangrove leaves of Lamu and are a perfect symbol of lasting love and friendship.
Made from 100% Fairtrade certified silver, with a thick coating of 24ct rose gold, yellow gold or precious rhodium vermeil, these earrings make the perfect gift for Valentine's Day.
Enjoy 30% off until 28th February 2021 with the code MANGROVE at checkout.
Buy Mangrove earrings from Liz Earle Jewellery
A rose bouquet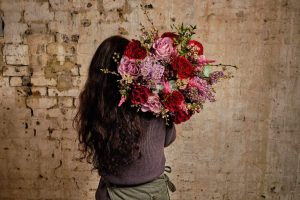 Upgrade on the traditional dozen red roses with the gorgeous Valentine's Rose Posy bouquet from The Fresh Flower Company.
This classically romantic collection of blooms features ruby red and vintage lilac roses, along with lilac, stems of blossom and berries. It's sure to fill the home with gorgeous scent and colour.
Enjoy 10% off your order at The Fresh Flower Company by using the code LIZLOVES at checkout.
Buy the Valentine's Rose Posy bouquet from The Fresh Flower Company
Rose-scented beauty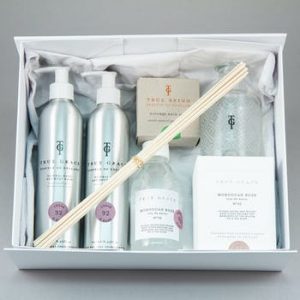 Continue the rose theme of Valentine's Day with this gorgeous set from True Grace. The In Love with Rose Gift Set contains everything you need to fill your home and beauty regime with a beautiful rose aroma.
Inside, you'll find a candle and room diffuser, along with a number of skincare treats. Bathe with True Grace's beautiful hand and body wash and soothe skin with their rose-scented body lotion.
Enjoy 10% off your order at True Grace with the code LIZLOVES at checkout.
Buy the In Love with Rose Gift Set from True Grace
Silk relaxation set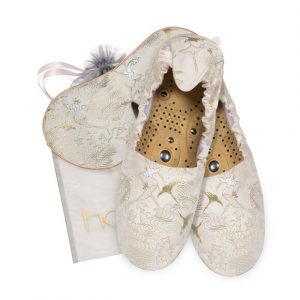 There's little better than the gift of relaxation. While we can't get away to spas at the moment, this relaxation set from Holistic Silk is perfect for a spot of at-home pampering.
This gift set is ideal for a soothing evening, helping you prepare for a good night's sleep. Each set includes a pair of massaging slippers, along with a lavender eye mask. What's more, the set comes beautifully presented in an Organza storage bag.
Enjoy 10% off your order at Holistic Silk with the code LIZLOVES at checkout.
Buy the Silk Relaxation Set from Holistic Silk
Leather shopper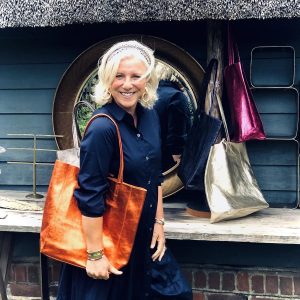 We love the gorgeous accessories from Sansom Reed – they make the perfect Valentine's Day gifts. One of our absolute favourites at the moment is this vibrant Italian leather shopper.
Available in a range of colours – from chic bronze to electric blue – this bag is your ideal day-to-day companion. Crafted from high quality leather, this simple design goes perfectly with any outfit.
Enjoy 10% off at Sansom Reed with the code LIZLOVES at checkout.
Buy the Italian Leather Shopper from Sansom Reed
Valentine's Day gifts for him
A happy houseplant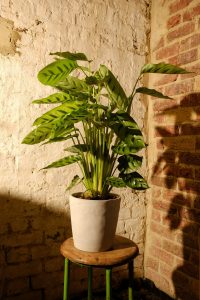 Houseplants make a welcome addition to the home and are ideal for brightening up workspaces. They also make great Valentine's Day gifts.
We love the houseplants from Forest London – especially this Calathea leopardine. This easy-to-care-for plant is fast growing and loves indirect light, making it ideal for a home office. It's an easy and effective way to bring a little piece of the outdoors in.
Enjoy 10% off at Forest London with the code LIZLOVES at checkout.
Buy the Calathea leopardine from Forest London
Premium olive oil
Olive oil is a must in any kitchen. Made up primarily of heart-friendly monounsaturated fat, olive oil contains less of the pro-inflammatory omega-6 fats found in most other vegetable oils. Extra virgin olive oil is the healthiest and highest-quality olive oil available as the oil is extracted without using high heat or chemical solvents.
Here at Liz Earle Wellbeing we love The Governor Premium Extra Virgin Olive Oil. The olives are carefully picked from trees that range from 100 to 500 years old – yes, really! Each bottle is produced naturally without using chemicals and made in small batches for consistently high quality olive oil.
Enjoy 10% off at The Governor Premium Extra Virgin Olive Oil with the code LIZLLOVES at checkout.
Buy The Governor Premium Extra Virgin Olive Oil
Salad dressing with a twist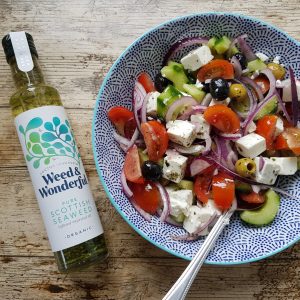 Another delicious oil that we adore drizzled over salads is this tasty blend from Weed & Wonderful.
This seaweed infused organic rapeseed oil is an easy and delicious way to harness the wellbeing benefits of seaweed, while giving your food an extra kick. Seaweed is a natural rich iodine source, which our bodies use to help make thyroid hormones.
Each bottle contains Hebridean seaweed and is 100% natural and organic.
Buy Weed & Wonderful's Pure Scottish Seaweed Infused Culinary Oil
A warming cup of coffee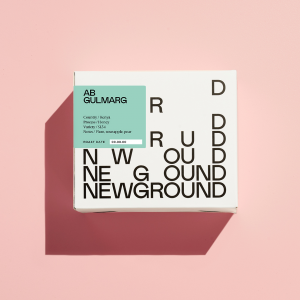 New Ground Coffee is one of our favourite brands here at Liz Earle Wellbeing. This is a brand where expertly crafted coffee meets social responsibility.
New Ground coffee ethically sources high-grade coffee, carefully selected from small-scale farms around the world. Back here in the UK, the brand uses the business to create work and training opportunities for ex-offenders.
The New Ground AB Gulmarg Kenyan blend makes for a delicious Valentine's Day gift. Expect tasting notes of plum, sour apple and pear for a morning coffee that really makes a difference.
Enjoy 20% off at New Ground Coffee with the code LIZLOVES at checkout.
Buy the AB Gulmarg coffee from New Ground Coffee
Valentine's Day gifts for you both
A taste of Spain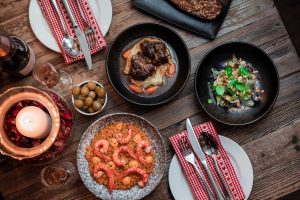 While a romantic mini break won't be on the cards for many of us this Valentine's Day, transport you and your loved one to Spain through an Iberica Cook at Home box. Let their talented chefs do all the prep for you, bringing the beautiful food, wine and culture of contemporary Spain straight to your doorstep.
This tapas feast includes fresh bread with olive oil, Manzanilla olives, toasted bread with tomato, Juan Pedro Domecq, jamon Ibérico, a selection of five artisan Spanish cheeses, Cecina, air-cured beef from Leon, roasted onions petals with anchovies, and confit aubergine with honey. For mains, choose between Carabinero rice (Red Scarlett prawns) and slow cooked ox tail with potato puree and baby carrots and finish with a chocolate cream, vanilla and strawberry merengue. Just delicious!
Order your Cook at Home box Iberica Food
An Italian night in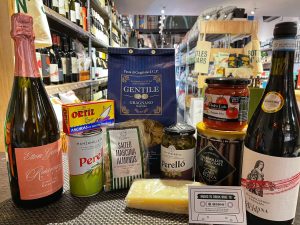 The Valentine's Hamper from Bottles 'n' Jars is everything you need for a romantic night in. With two bottles of wine, including a gorgeous pink fizz and a warm Italian red, it's sure to kick your Valentine's night off in style.
Indulge in some tasty nibbles – including salted almonds and rich olives – before tucking into a main of pasta covered in a rich tomato sauce with caperberries and anchovies. Top with 18-month aged Parmesan and serve with a glass of red for a stylish Italian night-in.
Finish your meal with chocolate covered cigarellos – the perfect romantic treat.
Order your Valentine's Hamper from Bottles 'n' Jars
Hampers are delivered nationwide. Final day for orders is 10th February, with the hampers to be shipped on the 11th to be enjoyed over the weekend.

Read more articles like this