Make your own autumn decorations
When outside spaces are sparkling with dew and speckled with the russet tones of autumn leaves and polished conkers, it seems a shame not to bring some of this natural beauty indoors. Autumn decorations are a great way to spruce up our homes, when the shortening days and colder weather mean we can't spend as much time outdoors on weekdays appreciating the season's bounty in the wild. Read on to find inspiration for your own homemade autumn crafts.

Autumn wreath
Who says wreathes are just for Christmas? We love seasonal door adornments year-round, and the fiery colours of dried autumn leaves make this leaf wreath particularly striking.
Cut a length of garden wire to your preferred length using wire cutters. Bend one end into a small loop – this will help prevent the leaves from sliding off in a moment's time.
Simply threat leaves onto the wire. You will need lots of leaves for this!
Once you're happy your wreath looks nice and full, bring the two ends of the wire together to create a circle, and twist them around one another to fasten. Adjust your threaded leaves to cover the join.
The leaves may curl once dried, which adds to the effect.
Harvest bunting
Bunting usually evokes images of summer garden parties or spring pastels, but we love how autumn leaves look pinned to a table, beam or wall.
Source a length of ribbon or string of pom poms.
Collect shapely leaves from outside and, using mini pegs from a craft shop, attach the leaves to the length of ribbon.
Unique carved pumpkin
While a ghoulish face is commonplace on a pumpkin to make it into a jack-o'-lantern, they can look slightly out of place when Halloween celebrations are over. We love using pumpkins as stylish centrepieces and chic decorations throughout October and November.
Carefully cut a circular cap out of the top of your pumpkin with a knife. Using a spoon, scoop out its contents.
Mark where you want holes in the pumpkin with a chalk pencil.
Using an electric drill, carefully make holes in the pumpkin, following your own design and changing the drill bit size where necessary.
Loved this? Read on here: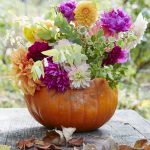 – Our top craft ideas for recycled materials
– Simple yet effective autumn flower arrangements