Liz loves at home
Discover ways to keep your home looking and feeling cosy with a touch of style. Liz shares some of her favourite homemaker brands, from gorgeous cushions to delicious coffee. Read on for some homely inspiration!
The home products that Liz loves
Clare Robinson
A new addition to our Wellbeing Studios, Liz is in love with the stunning velvet and linen cushions, designed and hand printed by Clare Robinson. Clare is a talented watercolour artist and textile designer with a love for softly hand-drawn images and floral designs.
Clare started her own studio in Scotland five years ago and has worked with Johnstons of Elgin to design a range of luxurious home products. She's also worked with Liberty of London, creating the Viviana range inspired by old-fashioned scented roses.
Using state-of-the-art print technology to produce fine textiles, Clare uses luxury natural fabrics that capture the feel and essence of every brushstroke and delicate tones. Enjoy a generous 15% discount with code LIZLOVES.
Denby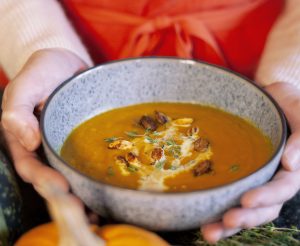 It's no wonder Denby is one of Liz favourite brands, with over 200 years of craftsmanship in the heart of England. This pottery brand creates beautiful tableware, cookware and serveware  You'll often find Denby's stunning and unique designs in both our Wellbeing Studios and Liz's home to give a warm feel and touch of style.
Enjoy a 10% discount at Denby using code LIZLOVES.
Forest
Houseplants and cut flowers are natural mood enhancers. They can also improve indoor air quality by naturally filtering polluted air. Bringing live plants indoors is one of Liz's favourite ways to style a home. The team at Forest hand pick easy-to-care-for plants and will teach you how to look after them at home. Based in East Dulwich and Deptford, Forest offers a free potting service and will match your plant with a suitable pot or planter.
Enjoy a 10% discount with code LIZLOVES.
Fresh Flower
The Fresh Flower Company sources the finest seasonal flowers from British growers to create truly gorgeous bouquets. These beautiful blooms will brighten up your home all year round and make a wonderful gift to send someone special.
Exclusive to Liz Earle Wellbeing, enjoy a 10% discount at The Fresh Flower Company using the code LIZLOVES at checkout.
Holistic Silk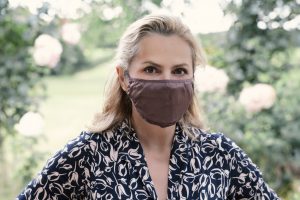 Holistic Silk creates beautiful silk accessories that support your wellbeing and ease you into a good night's sleep. The brand makes the most stylish and comfortable silk face masks and pure silk pillowcases that leave the face crease-free.
Enjoy 10% off with the code LIZLOVES at checkout.
New Ground Coffee
New Ground Coffee has been a favourite of Liz's for a while now.  This isn't only because New Ground Coffee tastes good, but it does good too! This brand is where expertly crafted coffee meets social responsibility.
New Ground Coffee ethically sources high-grade coffee, carefully selected from small-scale farms around the world. The coffee is shipped to state-of-the-art facilities where the New Ground Coffee team expertly roast each batch to reveal new exciting flavours every time.
But here's the difference – New Ground Coffee uses the business to create work and training opportunities for ex-offenders across the UK. This gives some of society's most overlooked people a new beginning.
This wonderful social-impact business also gives Liz Earle Wellbeing readers a very generous discount of 20% with the code LIZLOVES.
OKA
This stylish, female-founder led brand has been a firm favourite in both Liz's home and at the Wellbeing Studios for many years.
OKA offers exquisite, unique collections of furniture and accessories designed to inspire practical living and effortless entertaining. Synonymous with good taste and excellent style, OKA hs furnished many of the most stylish homes all over the world for the past 20 years. Enjoy 10% off using code LIZLOVES.
True Grace
Fill your home with fragrance and make your own natural wax and sustainable candles with True Grace. This family-run, West Country company creates gorgeous candles, diffusers and room sprays, inspired by the natural fragrances of the great outdoors and more.
Enjoy 10% off your purchase using the discount code LIZLOVES at checkout. Liz featured their excellent candle-making kit on her 'lives' and is a genuine fan of this great British brand.
White & Green
Sari, the founder of the family-run company White & Green, is an interior designer. She founded the company after becoming increasingly frustrated by the customer experience and the poor quality of so many brands – think sheets pilling after a couple of washes, not fitting properly or being difficult to iron.
Sari set out to create the best bedding in the world. Together with her daughters, Sari thoroughly researched the industry, coming up with the best designs and finding the right partners. This wonderful family brand works directly with organic cotton farmers and Fairtrade factories in India. White & Green combines classic designs with the finest handpicked cotton and master craftsmanship to create quality bedding.
Enjoy a great 15% off your order using code LIZLOVES at checkout.
Read more articles like this