How to garden during lockdown
Lockdown has given us plenty of opportunity to find new and inventive ways to get busy and creative at home. From working out with online personal trainers to learning how to crochet, the list is endless. But what about if you want to garden during lockdown?
Garden centres may currently be closed and, while it's a challenging time for the horticultural industry, there are plenty of ways that you can flex your green fingers at home. The best news is that you don't even need a garden to get started. Design your own garden on a plate or grow vegetables from seeds and scraps – there's a range of ways to get growing.   
We team up with Mr Plant Geek and co-host of The Plant Based Podcast, Michael Perry, to explain the fun ways you can garden during lockdown.
Make a flower crown
A staple for any summer festival, flower crowns are a sure-fire way to inject some fun and colour into your day. While Glastonbury may be cancelled this year, Garden Day on the 10th of May is well and truly on.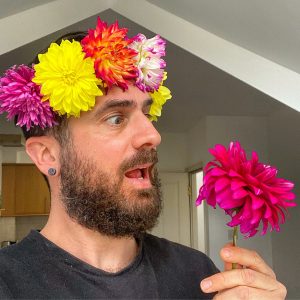 Garden Day calls on garden and plant enthusiasts to hang up their gloves and host a celebratory event for family and friends to appreciate their gardens together. This year's call is to consider a virtual celebration with family and friends. Do this by live streaming video calls and posting across social media platforms. A host of top gardeners will be donning flower crowns in celebration – including garden designer Chris Beardshaw, broadcaster Arit Anderson and, of course, Michael Perry himself. Make your flower crown and join in the celebration!
"Flower crowns are really easy to make," explains Michael. "In an ideal world you'd have floristry wire to make your frame, but you don't even need to use this. Foil works just as well, and then all you need to do is attach your favourite blooms."
And there's no reason you can't get a little inventive. Flowers from a spring bouquet are a bright choice, but foliage from houseplants and even surprise vegetable additions can make for a bold look.
Discover Michael's guide to making a flower crown
Design a garden on a plate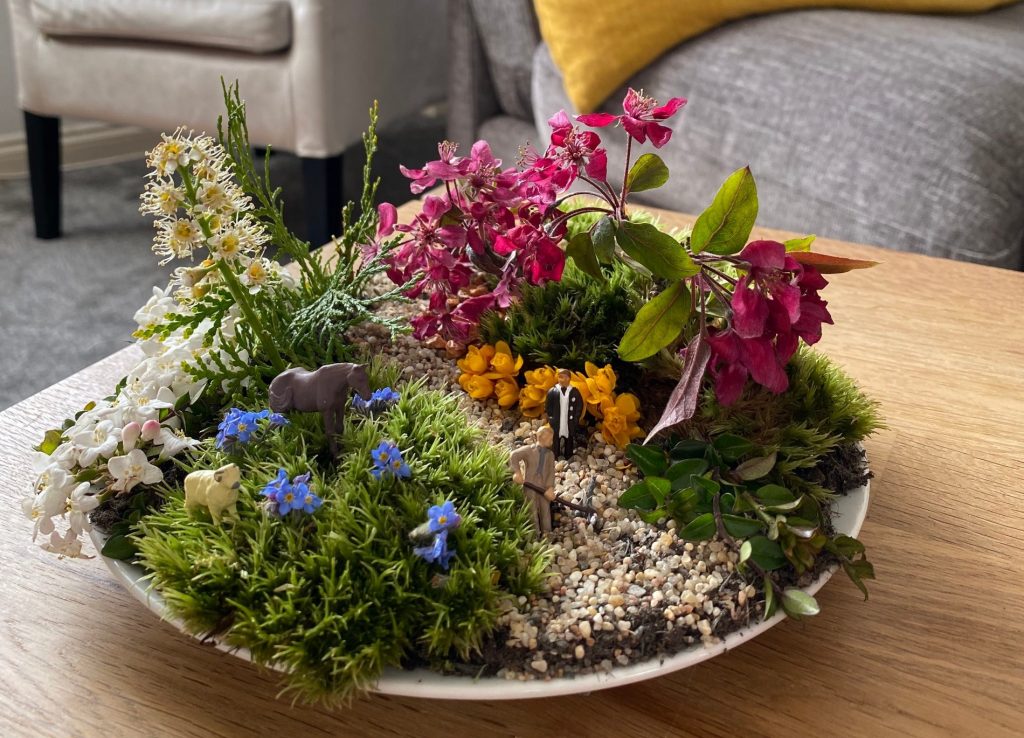 Lockdown has meant that flower shows up and down the country have sadly been cancelled this year, including the world-famous RHS Chelsea Flower Show.  
While the top designers won't be showcasing their gardens this year, there are still plenty of ways you can get your Chelsea fix from the comfort of your own home.
"Plot on a Plate is a great competition to get involved with," says Michael. "Lead by the Chelsea Physic Garden, it encourages people to design their own garden on a plate using materials that they have at home.
"Moss can make the perfect grass area, whereas gravel can make miniature pathways. If you don't have a garden to source materials from, look for foliage while out for your daily exercise. I've really enjoyed taking the time to look for plants and materials that look good in miniature.
"Complete your design with little figurines to bring the plot to life. Lego people can work really well!"
Once you've made your design, take a photo and send it to Chelsea Physic Garden via Instagram (@chelsea_physic_garden) or Twitter (ChelsPhysicGdn) by including the hashtag #plotonaplate. Find out more about the competition.
Upcycle plant pots
Without a garden centre to head to, finding pots for all of your plants can seem a challenge. But this is where you can get resourceful.
"Almost anything can be made into a planter," says Michael. "Juice cartons, shoes, tyres, you name it, you can plant in it! The only thing you really need to ensure if that you have good drainage. This means either drilling a hole in the bottom or adding gravel to your container."
Once you've found the perfect container, you just need to find plants to fill it.
"Consider whether your planter will be inside or outdoors to help guide your plant choices," says Michael. "That being said, relatively small patio plants can look really effective. Marigold or petunia are great and I also really like calibrachoa – these are like miniature petunias. They're only small but look really nice.  
"When planting, ensure you don't pack with too many plants – you need to leave space for the roots. Also ensure that you have at least ½ an inch of clearance at the top of your planter to allow space for water."
Make your own terrarium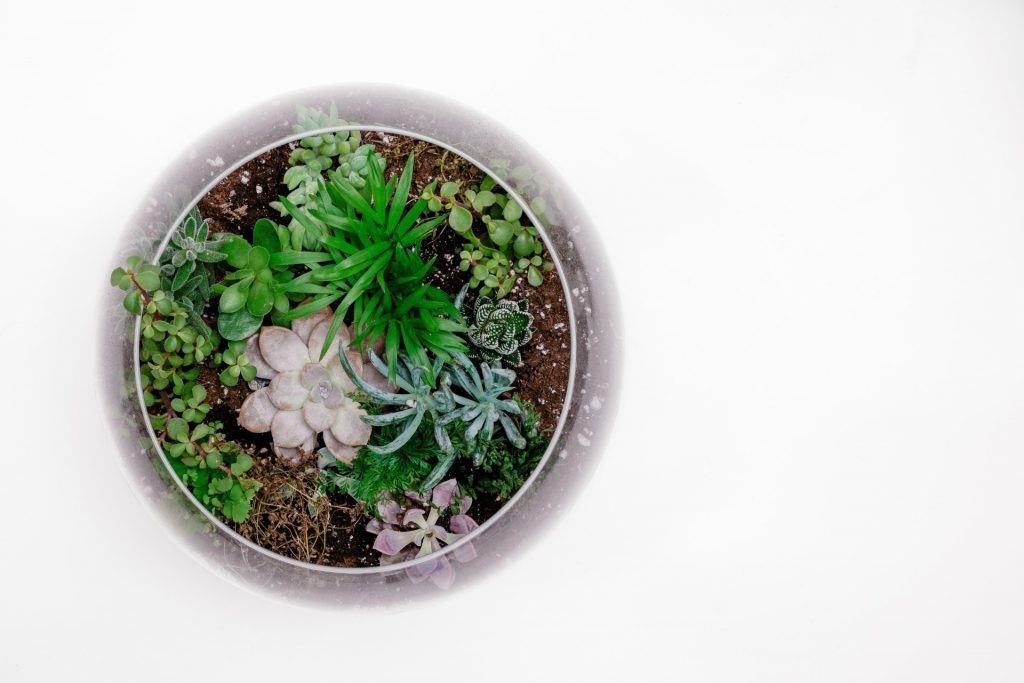 Terrariums are miniature gardens set inside a container. These are traditionally glass bowls or jars, but you can even find novelty editions inside used light bulb shells and old plastic bottles. The great news is that they're easy to make at home.
"There are generally two different types of terrarium – open and closed," explains Michael. "Open terrariums are for cactus and succulent plants. Closed terrariums are sealed and these are more for plants you'd expect to see in a rainforest – ferns for example.
"For a sealed terrarium, you need to ensure you retain moisture within the container. Ideally, you should only need to open once a month to aerate the terrarium."
How to make a sealed terrarium
Choose a container for your terrarium. Glass mason jars can work really well.
Add a thin layer of pebbles to the bottom of your terrarium.
Next, fill with a layer of fresh compost. High quality houseplant compost is ideal. Mix in a layer of charcoal with your compost to help keep your terrarium fresh.
Add plants to your terrarium. Opt for ones that do well in moist atmospheres, like ferns and mosses.
Open once a month to aerate the terrarium.
Try grow your own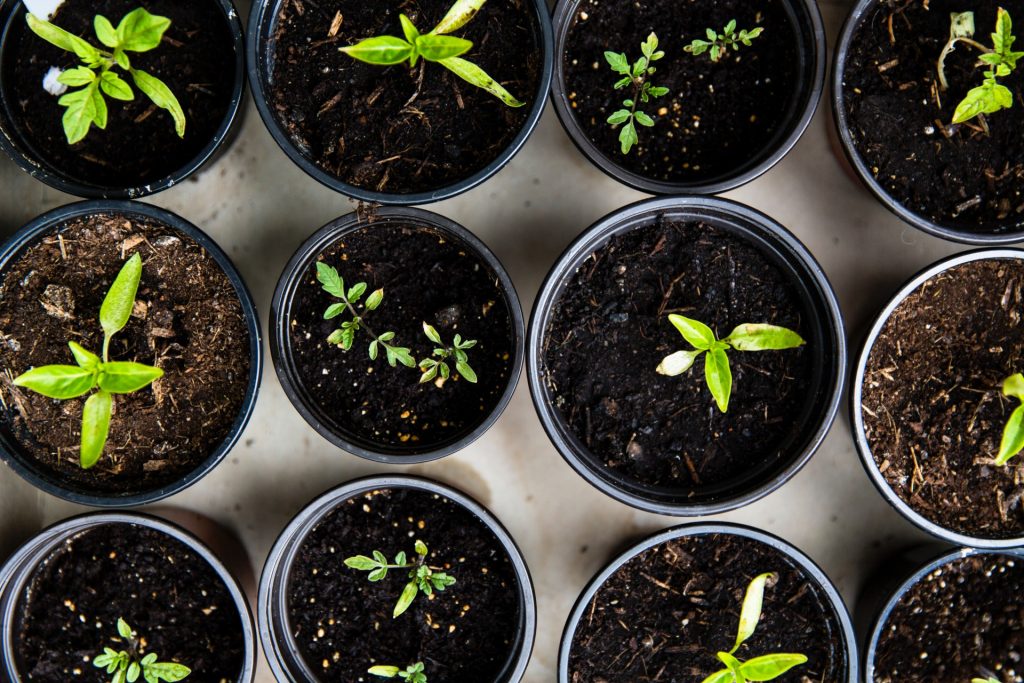 We usually head to the shops to source seeds for planting, but did you know there's a whole host of resources lying in your kitchen? Growing plants from leftover seeds can be a fabulous way to experience growing your own. It's also a fantastic way to get the kids interested in gardening.
"There are a number of ways we can use fruit and vegetable scraps to get growing," says Michael. "An avocado seed is actually a really nice way to grow your own houseplant. Either plant the stone in soil or balance it in a jar just above the waterline, supported by cocktail sticks.
"Celery is another good one. Take a chunk of celery – about one inch long – and add this to a glass of water. Over time you'll notice young spears and foliage appearing, which can make really tasty additions to salads."
So what are you waiting for? Head into the kitchen and see what you can get growing!
Read more articles like this