FOOD HERO – Lorraine Pascale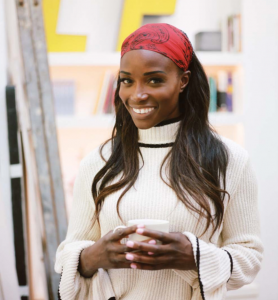 Since swapping the catwalk for the kitchen, TV chef and bestselling author Lorraine Pascale has gone from strength to strength – both physically and mentally. She talks to Liz about achieving a happy and healthy balance in her approach to food and fitness – without depriving herself of her much-loved baked goods.
Lorraine Pascale's career path is an exciting and unexpected one. Starting out at the age of 16, she enjoyed 15 years on the catwalk as a model alongside the likes of Kate Moss and Naomi Campbell.
She says: 'It was a lot of fun – I was gallivanting around the world and getting paid for it, and I also made a lot of good friends.' But once she got married and had her daughter, Ella, Lorraine found herself with the familiar working mum's dilemma: she wanted a job that she was passionate about but that also kept her in one place. 'My dad was a Spanish teacher and loved his work, and I knew the time had come to find more fulfilment in my career.'
True calling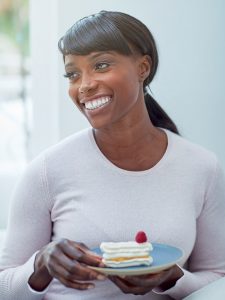 The move from fashion to food didn't happen overnight. "I did all these different courses to see what really made me tick and eventually found my calling at Leith's School of Food and Wine. I did that for a year, then went on to specialise in baking, patisserie and culinary arts management for four years at the University of West London."
As we know, turning your passion into profit is no easy feat. Lorraine's first 'foodie' gig was at the Hummingbird Bakery, where she worked before doing unpaid placements in different restaurants. It was only when Lorraine opened up her own bakery in Covent Garden, called Ella's Bakehouse after her daughter, that things started to pick up. From it, she landed her own show with the BBC – the first of six. 'I'm now doing a lot of TV work in America and I'm a judge on several baking shows. They're a bit like The Great British Bake Off but faster-paced.'
Striking a balance
For someone who spends so much time around tempting treats, Lorraine is a big believer in balance. She says it's all about moderation. 'I don't believe in omitting food groups, it just doesn't last. For me, it's all about balance, so I have cheese and chips but then I do eat lots of healthy food.'
Lorraine starts every morning with a shake full of organic powders such as maca, matcha, spirulina, turmeric and Bimuno, which is a prebiotic, great for gut health. 'It has actually changed my life since using it. It's so hard when you're travelling to keep on top of eating fermented goods. I try not to fixate too much on what I'm eating because of time zones and your natural rhythm, but I do carry Bimuno powder sachets with me everywhere'.
I don't believe in omitting food groups, it just doesn't last. For me, it's all about balance, so I have cheese and chips but then I do eat lots of healthy food.
Lorraine's cookbooks are bursting with nifty tips and shortcuts to eating well. Indeed, the word 'easy' crops up in the title of many of her books, including one of our favourites, Eating Well Made Easy, which is full of simple and wholesome midweek meals. 'I worked with nutritional scientists on that book to make sure the recipes weren't only easy but full of goodness, too.'
Fitness fever
Aside from food, Lorraine's other love is fitness. 'I didn't get into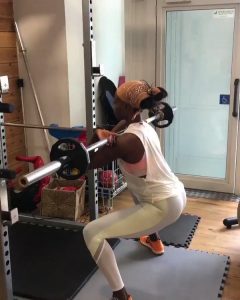 fitness until after I had my daughter – in fact, I think I exercised once when I was pregnant. Now I get up early to do it five days a week. It becomes a habit, just like brushing your teeth, once you do it long enough – but do give it six months to get that way!'
At the age of 45, Lorraine is also a keen advocate of weight-lifting and its benefits, especially as we grow older: 'It's super-important to build up muscle mass and help maintain bone density.' But she understands that for those who have never lifted weights before, it can seem daunting and hard to know where to begin. 'My advice is to start low and gradually work up. The most important thing is the form – make sure you have a gym induction before you start working out, to avoid injury.'
Giving back
Physical fitness aside, Lorraine is a big believer in emotional and mental wellbeing. She frequently gets up at 5am 'to squeeze in a 20-minute meditation before taking my dogs for a walk'. And on a wider scale, she is a big believer in giving back – particularly on the part of those in the public eye. 'We have this platform – some people have millions of followers – with which to make huge changes, just by one tweet or Instagram post.'
Lorraine's interest lies in helping to support young children with an unstable upbringing. Having been fostered herself, it's a cause she passionately supports. Among other charities, she is working with TACT and Barnardo's to help guide young people on a path to a more fulfilling life. 'I give talks in schools on confidence, resilience and purpose, as well as visiting foster children. If they tweet, I'll retweet to help give them a voice.' Having written the foreword for a new book entitled Welcome to Fostering, Lorraine is ever-keen to paint a positive image of fostering as an important process in the lives of vulnerable children. 'My purpose is to help others find their purpose – cake's great and it's my passion, but fulfilment is also key.
Loved this? Read on here:
– Make Liz's famous menopause cake