How to help children eat more fruit & veg
We all know someone who could use a little encouragement when it comes to eating up their fruit and vegetables (and they aren't always young children!). On average, only 8% of children between 11 and 18 are getting their full five portions of fruit and veg per day. Whether they balk at the sight of carrots or hide their peas under their cutlery, there are often certain types of (usually healthy) foods which cause consternation. This doesn't mean that they should be ruled out, we just sometimes need to be a little more creative about how we prepare them.  Read on for some great tips on incorporating wholesome, nutrient-rich foods into delicious meals that even the pickiest eater will wolf down.
Not 'mushroom' on the plate…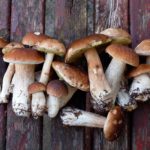 Poor mushrooms get a bad rap – according to one survey they are among Britain's top 10 most disliked foods, yet the team here at Liz Earle Wellbeing think they are absolutely delicious. Fabulous fungi have a variety of health benefits, perhaps most notably being the only source of vitamin D you'll find at your local greengrocer, and one of the few non-fortified sources on any supermarket shelf. Vital for good bone health, vitamin D has also been linked to protection against diseases including cancer and diabetes. If it's the texture of mushrooms that your fussy eaters find off-putting, then one great way of disguising them is to mix them into a Bolognese sauce. Some supermarkets sell pre-prepared 'mushroom mince', but it is just as easy to pulse them in a food processor until finely chopped so they can blend in with the meat. Mix with beef or soya mince in your usual recipe and even the most eagle-eyed eater won't notice they are there!
This isn't the only way of concealing vegetables in their favourite pasta sauce. The base of a good ragu is soffritto, an aromatic mix of onion, carrot and celery, which will cook down until almost unnoticeable, while making your recipe more authentic and adding an extra helping of veg.
Happy meals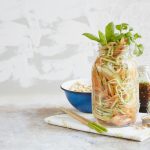 There is nothing wrong with enjoying a takeaway every now and again, but when fast food and takeaways are the only meals which aren't met with upturned noses, some compromises have to be made – both for health reasons and to give your bank balance a break. In a recent podcast with Melissa Hemsley, Liz discussed the benefits of a 'fakeaway' – making takeaway meals at home or finding healthier substitutes for elements of the meal. Liz's handy substitution tip is to enjoy a takeaway once in a while, but to cook your rice at home. Substitute your pilau for a bowl of short grain brown rice, which has a lovely nutty flavour, is a fantastic source of magnesium, and has a medium glycemic index which keeps you fuller for longer.
Melissa's favourite 'fakeaway' cuisine is Thai. She says: "How would I adapt it? I get loads more vegetables in, I would look for some sugar alternatives [her favourite is good quality maple syrup and coconut oil for its natural sweetness], I would add lots of freshness, so fresh lime juice or lemon juice, tons of herbs, Thai basil, Thai mint – they're so cheap!" She also uses buckwheat soba noodles. A great way of cutting down on our meat intake is simply to use more vegetables, and spiralising is a great way to do this – it's hard not to find rainbow-coloured noodles appetising.
Ditch the crisps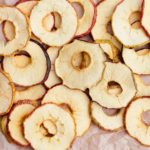 When trying to curb a crisp habit, it can be tempting to swap these oily, salty snacks for vegetable crisps, but studies have shown that some brands of vegetable crisps contain even more salt and saturated fat than their potato-based pals! A great, virtually fat free, alternative is dried apple rings. Sprinkled with cinnamon, they are a welcome treat in any lunchbox – simply leave them to dry for longer in the oven if you want a crunchy crisp substitute.

Fruit ninja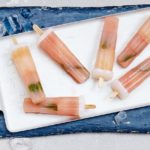 There are so many ways to subtly slide some more fruit into your children's diet. These grapefruit and mint lollies are a wonderfully refreshing snack, and are packed with vitamin C. Adding a little water to the grapefruit juice also helps to lessen the sugar content, which is kinder on everyone's teeth. If grapefruit is too bitter for their liking, orange juice-based lollies are equally delicious.

It sounds corny…
When barbecue season begins, it can sometimes feel like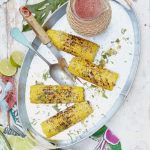 every weekend is a relentless meat-fest, but there are some great ways to make sure vegetables get some plate space, too. If making chicken kebabs on skewers, try alternating each piece of meat with a chunk of vegetable (mushrooms and peppers work well) and a square of halloumi cheese for some calcium. As a side dish, we love barbecued corn on the cob, and what better way to enjoy it than coated with a tropical-flavoured 'beachside' butter with lime and coconut?
With a bit of forward thinking, there are so many ways we can encourage our children (and fussy friends) to enjoy a more balanced diet, without resorting to old wives' tales about carrots making you see in the dark (although there could actually be some truth in this claim where Brussels sprouts are concerned)…
Loved this? Read on here: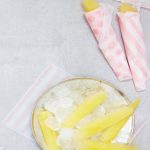 – Our favourite fruity ice lolly recipes
– Our 7 favourite vegetarian meals

Wellbeing Wisdom
Short grain brown rice is a great source of magnesium and will keep you fuller for longer than white rice.
Fruit juice still counts as one of your five a day, so if your children don't like eating whole pieces of fruit, freeze the juice into lollies for a healthy treat.