The Good Gut Guide: Week One blog
Liz says:
I am so enjoying hearing from my six lucky winners as they get started on their journeys to better gut health with an early copy of my new book, The Good Gut Guide.
They have already completed Week One, where they have been focusing on clearing away unwanted waste matter from the gut, including possible yeast overgrowths, bad bacteria and even parasites, all of which can leave us with an unhappy gut.
Find out how they're getting on below.
Tricia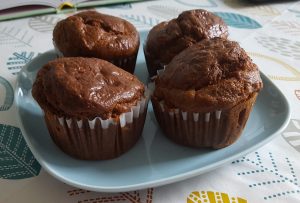 So far I've lost 3lbs, my bloated tummy has gone down and my jeans are already fitting a little better! I've also found that my energy levels have improved and I've stopped craving sugar and carbs.
My weekly shopping budget is around the same as I'm simply swapping my usual processed food for more fresh produce. I've also started to plan meals and write shopping lists – so I'm actually budgeting better and not guessing!
I've tried a number of the recipes, mostly ones that are quick, easy and my kids will eat. The oat & berry breakfast bars, banana & cinnamon muffins and coconut oat bombs have been a real hit with the whole family. We also love the sweet potato rostis with poached eggs.
Caterina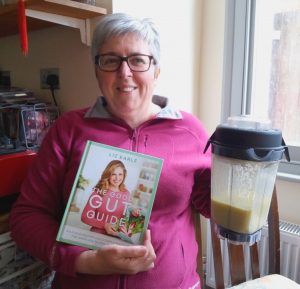 I started the plan just before Easter, and have been finding it very good – although the long Bank Holiday weekend did slightly scupper the best laid plans for total healthy living! I had my two adult children visiting for the weekend, which meant I was exposed to considerable temptation in the form of hot cross buns, chocolate and other stuff that normally does not cross my kitchen threshold.
Despite these difficulties, I still managed to eat a lot of gut-friendly food, drink my kefir smoothie and even managed to do a 36-hour fast on Friday!
Now that Easter is behind me, I intend to up the ante on my gut health. I haven't had time to make my fermented veg salad or sauerkraut, but have got new kefir grains on the go and a kombucha scoby. The kombucha should be ready in a few days.
The psyllium experiment didn't go too well, as it upset my stomach for a couple of days, so I'm not in a hurry to take any more for the time being.
I am eating according to the principles outlined in the book as much as I can and feeling really good with this plan, it is simple and I love that it is so easy to follow.
Liz adds: Congratulations on completing a 36 hours cleanse! That's really good going. Psyllium can be scaled back, starting with just a small amount at the outset. It is a useful gut cleansing ingredient, but not vital if you'd prefer to omit!
Gabi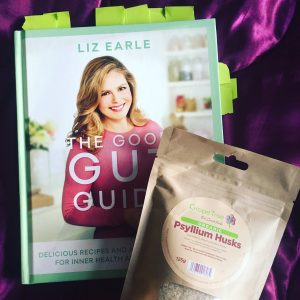 My first week on the plan has been exciting, but difficult at the same time. With a very busy work life and working at the London Marathon over the weekend, it was a challenge to always be gut-friendly. However, I have found it easy to take elements of the plan and fit them into my lifestyle.
I managed to do a 24-hour cleanse, including the psyllium husk in my smoothies. The recipes have been simple to make and really tasty. I love the squash and spinach curry and so did my whole family on Friday night curry night! Plus, beetroot is my new best friend – I'd never consumed it much before.
I haven't noticed a big difference yet, but it is only week one. Onwards to week two!
Liz adds: Well done on taking the long view! Damage to our gut health can happen over decades, so it's worth putting aside a few weeks to help rectify.
Lauren
I'm a huge grazer, so I've tried to make a conscious effort to leave a little longer between meals. I'm also guilty of often eating late in the evening, so I've tried to bring my dinner time forward to 7pm, giving my gut more time to rest overnight.
I completely cut sugar out of my diet a few years ago when I had cancer but it's slowly crept back in – usually in natural form – but I probably do snack on too much chocolate. I've stocked up on 90% dark chocolate and some medjool dates to help reduce any sugary cravings – but I'm trying to resist as much as possible.
Another thing I've taken away from my first week on the six-week plan is reducing my alcohol intake. I found returning to work recently in a busy hospital quite stressful and I fell into the habit of having the odd glass of wine in the evening. I've managed to cut out alcohol (except for one night last week at the UK Blog Awards – who can refuse bubbles!?). I've also stocked up on specific gut-friendly foods (garlic, pumpkin seeds, beetroot and pineapple) as well as plenty of leafy greens.
Being the science geek that I am I found it interesting reading about the bromelain (digestive enzyme) found in the stalk of pineapple so I've been making sure to eat that part too.
The main aspect I've found difficult to address is my love of bread. I already eat sourdough and I have tried to cut down – but I can't seem to resist a morning slice of toast slathered in almond butter and a cup of tea!
Liz adds: Yes – bread is such a hard habit to break, but my sourdough recipe is so gut-friendly that you don't need to have too many pangs of guilt over your morning slice – and almond butter is a great choice too!
Jodie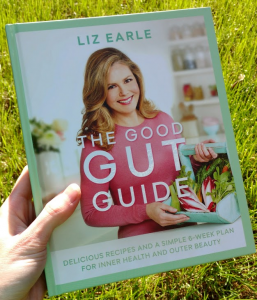 My motivations for joining the 6-week programme are probably similar to many – to improve my overall health and wellbeing. I think I have made progress towards that within the first week and, in addition, my awareness of the impact my gut health really has on my life has increased.
I started my 6-week journey with lots of hope and a little uncertainty about commitment. I wanted to make a positive change, but was a little worried that it would be too time consuming and too unfamiliar for me. But I must say, I have almost reached the end of my first week and am pleasantly surprised. I've not achieved a perfect score, but I have managed to take many of the suggested steps towards better gut health and I feel really good for it.
The Good Gut Guide is a well-written, easy to follow text that not only tells you what to do when, but why. I think that the 'why' is the key to keeping me motivated and partaking as I understand the reasons behind the advised changes.
Week One is all about cutting back and giving your gut a chance to have a clean-out. I have found it quite easy to give my gut a rest by delaying breakfast to ensure a fast of at least 12 hours each day. Avoiding alcohol was another cinch, but avoiding all sugars and sweeteners has proved more difficult (I often reach for chewing gum for a quick 'fix' and hadn't previously considered the unnatural sweeteners contained within). Nonetheless, I've not eaten any ready-meals, which I had become somewhat reliant on and no longer add sugar to my coffee, so that's significant for me. I've added my organic herbal teas to my daily routine once more (an old love that almost slipped away) and am feeling a little more relaxed as my mind turns towards positive change. I'll keep working on the chewing gum problem during my second week.
Liz adds: Many of us don't realise just how addictive aspartame in chewing gum is and how this can adversely affect gut health. Fortunately, it's become much easier to find aspartame-free chewing gum – you just have to read the (very) small print!
Laura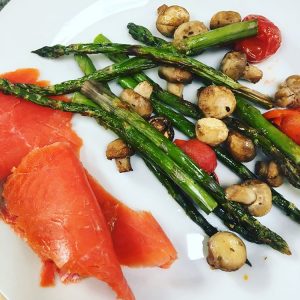 I really enjoyed Week One of The Good Gut Guide six-week plan. Because I take medication, I decided not to cleanse my system using a clay cleanse for the time being, though I hope to give it a go in the future. Instead, I concentrated on intermittent fasting, making sure I wasn't eating after 8pm. I also cut out known gut irritants and found this really helped my symptoms of bloating and griping pains.
I enjoyed finding recipes in the book that focus on naturally gut-healing foods. I had some fails… I wasn't able to find cranberries or even frozen cranberries anywhere. I will also have to get used to bone broth and think I'm going to look at making more soups with it – but it was very soothing! The raw beetroot I bought hasn't been used yet… I've never cooked it before and wasn't sure what I was doing!
I had some amazing positives this week, too. Naturally, with it being my first week on the plan, it was some of the simple changes that I found easiest to adopt. The lovely muffin recipes were a real hit, the children loved them and I could hide pumpkin seeds in them. So much better than the sugary after school snacks they usually tuck into. Switching my yoghurt to probiotic varieties, and having it with grilled or fresh pineapple was an easy swap too. We also enjoyed cooking a whole organic chicken with garlic. My favourite thing this week has been drinking lemon water in the morning, it seems to instantly soothe and energise!
Liz adds: Great to hear some simple, yet very positive changes happening here! Wonderful review of the hot lemon water first thing – hope this inspires others here. You don't need to eat cranberries necessarily, but if you do fancy giving them a go you'll find frozen ones at most supermarkets. Roast beetroot is one of my favourite veggies, so hope you enjoy this gut-booster too!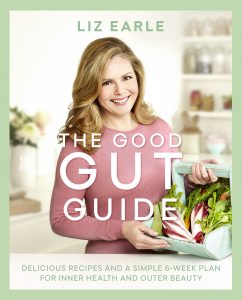 To get started with Liz's ultimate wellbeing plan for a healthy gut, order your copy of The Good Gut Guide today!