Garden craft ideas with kids
Looking for ideas to keep little ones entertained outside? Look no further. These garden craft ideas are sure to keep young greenfingers busy. With that said, please ensure that scissors and crafting tools are handled under the supervision of a grown-up at all times to prevent any accidents. 
Crop Markers
You will need:
Straight sticks (roughly 1/2 metre long)
Sturdy craft knife
Marker pen
Method:
Taking a stick in one hand and the sturdy knife in the other, cut an area of bark off with your knife, leaving a clean, smooth section for you to write on.
Write the name of the seeds you are planting on each of your crop marker sticks so you can keep track of your seeds once they are buried beneath the soil.
Top tip: Kids may like to paint their planters with bright colours to help them stand out in the garden.
Newspaper Planters
You will need:
A jar or can
Newspaper
Pair of scissors
Method:
Open a double-page spread of newspaper on a flat surface.
Fold it lengthways in half, then fold an inch flap down, from the top, on the fold.
Turn the newspaper over so your inch flap is touching the flat surface.
Place the jar on the newspaper with the neck lined up on the folded edge, and start to roll the jar with the paper until the jar is covered.
Holding your jar and newspaper together so they don't unravel, tuck the excess newspaper into itself at the bottom to create the base.
Tuck your loose side edge under the inch fold and then take the jar out.
Fill your planter with soil and seeds, and plant the paper jar in your flower bed. The newspaper will eventually decompose.
Seedling Cloches 
You will need: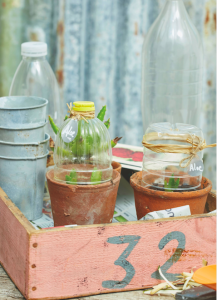 A plastic bottle
Pair of scissors
Method:
Start by washing out a plastic bottle which is big enough to fit snugly inside plant pots to form a seal.
Carefully stab a hole – with a pair of scissors or craft knife – into the middle of your plastic bottle so you can cut it in half, creating two ends that can be used.
Place the bottle halves over your growing seedlings – they will act like mini greenhouses, keeping seeds protected and helping them to grow.
Loved this? Now read: 
Fun, fruity recipes to make with kids