Competition closed: Win a year's subscription of chocolate from Simsante!
Win a year's subscription of chocolate from Simsante worth £244!
One lucky reader will receive the Simsante's Indulgence Subscription Box in the flavour of their choice for one year.
About your prize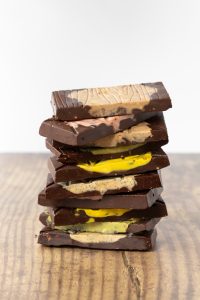 Enjoy a delicious supply of quality chocolate delivered to your door each month! Choose from a range of flavours – including Dark Chocolate Dream and Milky Magic – for a year's supply of tempting treats.
Each box fits perfectly through your letterbox (so no waiting around for deliveries) and the packaging is 100% recyclable.
About Simsante
Simsante prides itself in creating handcrafted, organic and nutrient packed chocolate. Expect chocolate that's infused with ancient grains, natural essential oils, protein-rich nuts, gut-strengthening spices, and seeds packed with omega-3. The dark chocolate is also rich in flavonoids and other antioxidants.
Simrin Singh is the founder of Simsante and a qualified nutritionist. After failing to find any guilt-free, nutritious chocolate, Simrin was inspired to create her own brand.
Drawing on her Indian heritage and knowledge of the unique alchemy of spices, her ayurvedic know-how and her love of the cocoa bean, Simrin has masterfully combined the best tasting, organic chocolate that's full of flavour and uses natural, plant-based ingredients, with no refined sugars.
Terms and conditions
This competition is open to everyone except for Liz Earle Wellbeing and Simsante employees and contractors (and their families), their associated companies, agents and anyone directly connected with the organisation, and operators of its brands.
Competition is open to UK and RoI residents aged 18 or over.
Entrants may be contacted by Liz Earle Wellbeing and Simsante in connection with this offer, and will be asked if they wish to opt in to receive marketing communications from Liz Earle Wellbeing and Simsante. We never share marketing data with anyone else and you can unsubscribe at any time. You can read our privacy policy here.
The winner's details will be shared with Simsante so that they can arrange their prize.
A limit of one entry per person will apply.
No bulk, third party or automated entries are accepted.
No responsibility is accepted for any entries that are incomplete, lost or delayed or are unable to be handed in because of any technical fault or other reason.
The start date of the competition is August 12th 2021 and the closing date for entries is August 26th 2021.
One winner will be selected at random after the competition has closed and will win a year's subscription of the Indulgence Subscription Box from Simsante in a flavour of their choosing. One box will be delivered each month.
The winner may be requested to take part in publicity.
The prize is non-transferable and valid upon confirmation with the Simsante team.
The prize cannot be exchanged for a cash prize and we reserve the right to replace the prize for one of equal value without notice.
The winner will be contacted via email in September by the Liz Earle Wellbeing team. If no response is received by the Wellbeing team from the winner within one week of our email, we cannot guarantee that the prize will still be available.
Liz Earle Wellbeing registered office: Beech House, Bank, Lyndhurst, Hampshire SO43 7FD, United Kingdom