Win a voucher for Abigail Ahern homeware worth £1000!
Win a voucher for Abigail Ahern homeware!
Revamp your home with a £1,000 voucher to spend on the Autumn/Winter collection at Abigail Ahern.
About your prize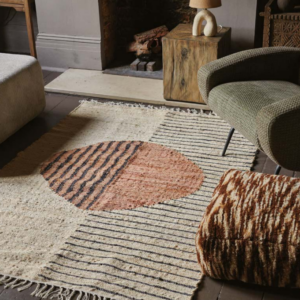 Abigail Ahern is a lifestyle brand offering a blend of modernity and tradition.
Whether you want to refresh a space or undergo a complete transformation, Abigail Ahern provides a fabulous selection of homeware, as well as a stunning spectrum of paint colours. And one lucky reader will win £1,000 worth of vouchers, to spend however they chose on the Autumn/Winter collection, including furniture, home décor, lighting and textiles – to fit any room of the house.
Now in its 20th year, the brand was launched in 2003 by renowned British interior designer, presenter and author Abigail Ahern, with the aim of creating beautiful things people will want to live with forever. Rich, warm colours and textures are key, as is a sense of anything-goes bohemian maximalism, with a nod to tradition but a big wink to the present.
Choose from curated home décor pieces, including interesting and unique artwork prints, elegant mirrors, rustic baskets and tasteful candles. Or opt for showstopping lighting: for high-luxe drama, there's elegant ballroom chandeliers, or keep it chic and understated with a simple side lamp.
Dive into the rich tapestry of textiles on offer, adding autumnal luxury with sumptuous rugs, mats and luxurious throws to create a cosy, atmospheric sanctuary. Need a new piece of furniture to pull a room together? There are opulent sofas, modernist coffee tables, rattan lounge chairs and everything in between.
Update your home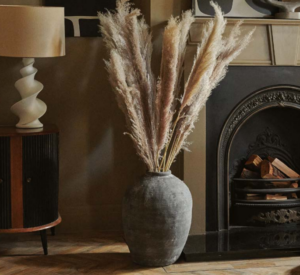 For those seeking a whole new look, explore Abigail Ahern's array of paint colours. The beautiful collection of muted, earthy tones, from light to swampy, dark neutrals, have all been designed to work together to create a cohesive palette.
As the season shifts into the cooler months, embrace the beauty of darkness with pieces that make you want to linger longer at home. Think laid-back luxurious armchairs wrapped in sheepskins and thick, long-haired, hand-knotted rugs. The Autumn/Winter lighting selection is especially noteworthy, with floor, table and cordless lamps that complement the special quality of light during the winter, with its low angles and slow dayto-night transitions.
If it's not too early to whisper the C-word, stay tuned for the Christmas collection of timeless pieces that will outlast the season, from the front door to the tree. Make the season truly special with beautiful botanicals, distinctive homeware and a stunning collection of gifts.
abigailahern.com
How to enter
Simply enter your details below to be in with a chance of winning.
Win a £1000 voucher from Abigail Ahern
Terms & conditions
This competition is open to everyone except for Liz Earle Wellbeing and Abigail Ahern employees and contractors (and their families), their associated companies, agents and anyone directly connected with the organisation, and operators of its brands.
Competition is open to UK and RoI residents aged 18 or over.
Entrants may be contacted by Liz Earle Wellbeing and Abigail Ahern in connection with this offer, and will be asked if they wish to opt in to receive marketing communications from Liz Earle Wellbeing and Abigail Ahern. We never share marketing data with anyone else and you can unsubscribe at any time. You can read our privacy policy here.
The winner's details will be shared with Abigail Ahern so that they can arrange their prize.
A limit of one entry per person will apply.
No bulk, third party or automated entries are accepted.
No responsibility is accepted for any entries that are incomplete, lost or delayed or are unable to be handed in because of any technical fault or other reason.
The start date of the competition is 1st September 2023 and the competition will close midnight 31st October 2023.
One winner will be selected at random after the competition has closed and will receive a £1000 voucher to spend at Abigail Ahern.
The winner may be requested to take part in publicity.
The prize is non-transferable and valid upon confirmation with Abigail Ahern.
The prize cannot be exchanged for a cash prize and we reserve the right to replace the prize for one of equal value without notice.
The winner will be contacted via email by the Liz Earle Wellbeing team. If no response is received by the Wellbeing team from the winner within one week of our email, we cannot guarantee that the prize will still be available.
These terms and conditions shall be governed by the laws of England and Wales and subject to the exclusive jurisdiction of the English courts.
Liz Earle Wellbeing registered office: PO BOX 78349, London, SW11 9QU, United Kingdom