Competition closed: Win a skin ritual set from Eko Botanicals worth £140
Win a skin ritual set from Ekó Botanicals worth £140!
Two lucky winners will each win a bundle of skincare products, including a cleanser, serum and radiance oil.
About your prize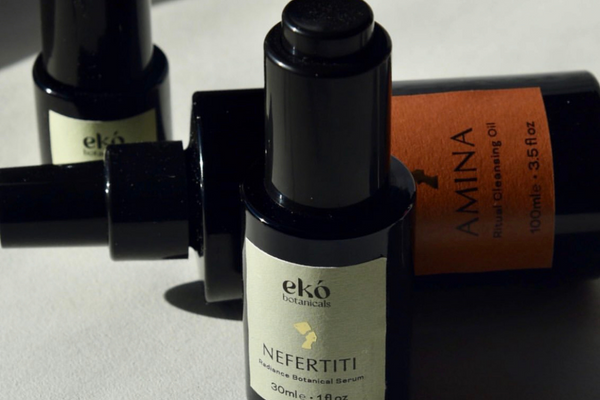 Two winners will each receive:
1 x Amina Ritual Cleansing Oil – this oil quickly absorbs into the skin and penetrates to work on gently cleansing skin impurities. It's naturally scented with uplifting and calming notes of lemongrass, rose geranium and neroli to uplift and cleanse.
1 x Nefertiti Radiance Hydrating Botanical Serum – Formulated to be a multi-tasking serum that replaces your vitamin C, vitamin B (niacinamide), hydration (hyaluronic acid, aloe vera), radiance, antioxidant and regeneration serums. It's gentle enough to be used even on sensitive skin.
1 x Makeda Radiance Botanical Oil – created as a multi-tasking face oil for all skin types, made with 22+ nutrient dense plant oils and botanical extracts from Africa and England.
How to use Ekó Botanicals as a three-step skincare ritual

Simplify your daily skincare ritual in just three simple steps.
Step one: Deep cleanse, soothe and moisturise
Amina is a multi-dimensional lightweight cleanser. It quickly absorbs and penetrates the skin, gently cleansing and removing impurities, while protecting against oxidative stress. It's also gentle enough to use around the eyes. Skin-friendly phytonutrients from the plant oils deliver vitamins and antioxidants to cleanse and moisturise.
Step two: Hydrate, brighten and minimise fine lines
Follow on with Nefertiti Serum to deliver immediate nourishment the skin. It helps to visibly minimize fine lines, boost the skin's natural collagen and hydration, firm skin and brighten and protect against environmental stressors. Hyaluronic Acid, hibiscus and aloe vera work to restore hydration and speed up cellular renewal. Powerful antioxidants from green tea and red, blue, green algae work to prevent premature skin ageing from pollution and UV exposure. Multi-active AHAs from white willow bark, liquorice and blackberry help to smooth and brighten skin.
Step three: Moisturise, protect and radiance
Apply Makeda after Nefertiti when skin is still damp to seal in the hydration. Makeda is fast absorbing and works to balance skin's PH and promote cell renewal, which then results in a cycle of regeneration and creation of new cells leaving skin glowing and radiant. A botanical powerhouse of 22 lovingly chosen nutrient dense plant oils and bioactives like Tamanu, Moringa, Borage, Kalahari Melon, Papaya, Sea Lavender and Lemon for maturing skin.
Find out more about Ekó Botanicals
How to enter
This competition is now closed.
Terms & conditions
This competition is open to everyone except for Liz Earle Wellbeing and Ekó Botanicals employees and contractors (and their families), their associated companies, agents and anyone directly connected with the organisation, and operators of its brands.
Competition is open to UK and RoI residents aged 18 or over.
Entrants may be contacted by Liz Earle Wellbeing and Ekó Botanicals in connection with this offer, and will be asked if they wish to opt in to receive marketing communications from Liz Earle Wellbeing and Ekó Botanicals. We never share marketing data with anyone else and you can unsubscribe at any time. You can read our privacy policy here.
The winner's details will be shared with Ekó Botanicals so that they can arrange their prize.
A limit of one entry per person will apply.
No bulk, third party or automated entries are accepted.
No responsibility is accepted for any entries that are incomplete, lost or delayed or are unable to be handed in because of any technical fault or other reason.
The start date of the competition is 30th January 2023 and the competition will close midnight 13th February 2023.
Two winners will be selected at random after the competition has closed and will each receive a bundle of 1 x Ekó Botanicals Amina Ritual Cleansing Oil, 1 x Nefertiti Radiance Hydrating Botanical Serum and 1 x Makeda Radiance Botanical Oil.
The winner may be requested to take part in publicity.
The prize is non-transferable and valid upon confirmation with Ekó Botanicals.
The prize cannot be exchanged for a cash prize and we reserve the right to replace the prize for one of equal value without notice.
The winner will be contacted via email by the Liz Earle Wellbeing team. If no response is received by the Wellbeing team from the winner within one week of our email, we cannot guarantee that the prize will still be available.
Liz Earle Wellbeing registered office: PO BOX 78349, London, SW11 9QU, United Kingdom