Competition closed: Win a restorative oil from The Noble Apothecary worth £47!
Win a gorgeous night oil from The Noble Apothecary worth £47!
We've got five bottles of the Serenity Restorative Night Oil to give away. It's the perfect addition to your evening skincare regime.
About your prize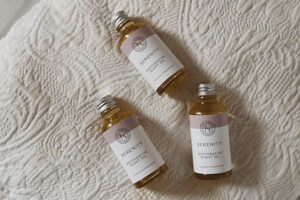 The Serenity Restorative Night Oil combines natural plant oils to provide a luxurious treatment. Massage a couple of drops onto your face, neck and decolletage as a soothing nightly ritual.
The blend of vitamin-rich oils aims to restore, brighten and nourish skin, leaving it hydrated and glowing. Absorbing quickly into the skin, you don't need to worry about leaving any trace behind on your pillow either.
Inside the Serenity Resorative Night Oil, you'll find:
Organic Camellia seed oil: Camellia is a natural antioxidant, and works to reduce free-radical damage and signs of ageing. Moisture-rich and absorbed easily by the skin, it makes up the base for the night oil.
Prickly Pear seed oil: Rich in vitamins E and K, essential fatty acids and antioxidants, prickly pear oil can help to repair and rejuvenate the skin. With regular use, prickly pear promotes skin elasticity and helps skin to glow.
Rosehip seed oil with vitamin E: This oil contains naturally-occurring retinoic acid (vitamin A), which contributes to vibrant, healthy skin. Rosehip is a fantastic reparative ingredient and can reduce scarring and pigmentation. Vitamin E can also help to reduce the free-radical damage that can contribute to premature ageing.
Helichrysum flower oil: This flower gives Serenity its intriguing, calming scent, while acting as a powerful antioxidant for the skin. Helichrysum is also associated with the heart chakra and is thought to calm and open the heart, making this the perfect ingredient to prepare the body and mind for sleep.
Find out more about The Noble Apothecary
Terms & conditions
This competition is open to everyone except for Liz Earle Wellbeing and The Noble Apothecary employees and contractors (and their families), their associated companies, agents and anyone directly connected with the organisation, and operators of its brands.
Competition is open to UK and RoI residents aged 18 or over.
Entrants may be contacted by Liz Earle Wellbeing and The Noble Apothecary in connection with this offer, and will be asked if they wish to opt in to receive marketing communications from Liz Earle Wellbeing and The Noble Apothecary. We never share marketing data with anyone else and you can unsubscribe at any time. You can read our privacy policy here.
The winner's details will be shared with The Noble Apothecary so that they can arrange their prize.
A limit of one entry per person will apply.
No bulk, third party or automated entries are accepted.
No responsibility is accepted for any entries that are incomplete, lost or delayed or are unable to be handed in because of any technical fault or other reason.
The start date of the competition is 1 August 2022 and the competition will close midnight 15th August 2022.
Five winners will be selected at random after the competition has closed and will receive a bottle of The Noble Apothecary Serenity Restorative Night Oil worth £47.
The winner may be requested to take part in publicity.
The prize is non-transferable and valid upon confirmation with The Noble Apothecary.
The prize cannot be exchanged for a cash prize and we reserve the right to replace the prize for one of equal value without notice.
The winner will be contacted via email by the Liz Earle Wellbeing team. If no response is received by the Wellbeing team from the winner within one week of our email, we cannot guarantee that the prize will still be available.
Liz Earle Wellbeing registered office: Beech House, Bank, Lyndhurst, Hampshire SO43 7FD, United Kingdom