Competition closed: Win a Microplane gift set worth over £50!
Win a gift set from Microplane – including the Premium Classic Zester now available in new colours – worth over £50!
Five lucky winners will each receive a Microplane Premium Classic Zester, along with a Gourmet Slicer.
About your prize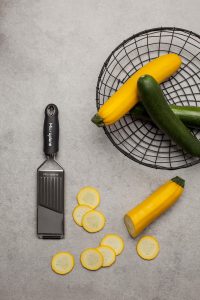 Microplane is the pioneer and original manufacturer of photo-etched graters, whose graters are used by professional chefs, TV cookery show presenters and passionate home cooks around the world. The iconic Premium Classic Zester has a long-lasting stainless steel blade, featuring 400 micro-teeth. It's perfect for grating everything from citrus fruits, hard cheeses, chocolate, and ginger to garlic and nutmeg.
The 11 new colours are inspired by minimalistic, harmonic Scandinavian design.  The chic range is subtle and warm and includes Cinnamon Orange, Mustard Yellow, Sky Blue, Denim Blue, Cashmere Beige, Sage Green,  Eucalyptus Green, After Dark Grey, Dusty Rose, Lipstick Pink and Pomegranate Red.
Alongside your zester, you'll also receive Microplane's Gourmet Slicer. This handy kitchen tool features a perfectly set, razor-sharp blade that doesn't need to be adjusted or reset. A brilliant time-saver, the wide, long-lasting, stainless-steel blade of the Gourmet Slicer quickly and precisely creates uniform slices (2mm thick) of an array of fruits, vegetables and cheese. The Gourmet Slicer has a comfortable soft-grip handle and a non-slip base for slicing vertically inside bowls, on plates or cutting boards.
Find out more about Microplane
How to enter
Competition is closed.
Terms and conditions
This competition is open to everyone except for Liz Earle Wellbeing and Microplane employees and contractors (and their families), their associated companies, agents and anyone directly connected with the organisation, and operators of its brands.
Competition is open to UK and RoI residents aged 18 or over.
Entrants may be contacted by Liz Earle Wellbeing and Microplane in connection with this offer, and will be asked if they wish to opt in to receive marketing communications from Liz Earle Wellbeing and Microplane. We never share marketing data with anyone else and you can unsubscribe at any time. You can read our privacy policy here.
The winner's details will be shared with Microplane so that they can arrange their prize.
A limit of one entry per person will apply.
No bulk, third party or automated entries are accepted.
No responsibility is accepted for any entries that are incomplete, lost or delayed or are unable to be handed in because of any technical fault or other reason.
The start date of the competition is 17th May 2022 and the competition will close midnight 31st May 2022.
Five winners will be selected at random after the competition has closed and will each receive a Microplane Premium Classic Zester and a Microplane Gourmet Slicer.
The winner may be requested to take part in publicity.
The prize is non-transferable and valid upon confirmation with Microplane.
The prize cannot be exchanged for a cash prize and we reserve the right to replace the prize for one of equal value without notice.
The winner will be contacted via email by the Liz Earle Wellbeing team. If no response is received by the Wellbeing team from the winner within one week of our email, we cannot guarantee that the prize will still be available.
Liz Earle Wellbeing registered office: Beech House, Bank, Lyndhurst, Hampshire SO43 7FD, United Kingdom