Competition closed: Win a holdall bag from Holistic Silk worth £250!
Win a stunning holdall bag from Holistic Silk worth £250!
One lucky winner will receive a Brocade 48-Hour Bag from Holistic Silk.
About your prize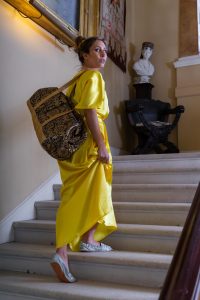 This beautiful bag in a sumptuous navy and metallic gold brocade is perfect for weekend getaways. The bag comes with a durable faux gold snakeskin base, over-the-shoulder handles and eight large bag-depth, slide-in pockets.
It's generous enough to keep your essentials separated and organised and is both lightweight and practical.
About Holistic Silk
Holistic Silk is an English brand with a global presence and remains a London and Cornwall based business, driven by its original founder and creative heart Joanna Weakley.
All Holistic Silk products are designed, tested, developed and refined by Joanna in house. Specialising in creating beautiful and therapeutic wellness, relaxation and beauty tools, Holistic Silk harnesses the beauty benefits of silk, working at an artisan level to produce ergonomic, truly effective long-lasting products.
Handcrafted in small-runs, Holistic Silk works with ultra-skilled machinists in the UK and in India where the brand supports communities by using a production unit that teach skills to workers who might otherwise find it impossible to be employed. Holistic Silk continues to support the Fair Made principles the brand embraced at its inception 20 years ago producing design-led, long-lasting products that are truly effective.
Find out more about Holistic Silk
How to enter
This competition is now closed.
Terms and conditions
This competition is open to everyone except for Liz Earle Wellbeing and Holistic Silk employees and contractors (and their families), their associated companies, agents and anyone directly connected with the organisation, and operators of its brands.
Competition is open to UK and RoI residents aged 18 or over.
Entrants may be contacted by Liz Earle Wellbeing and Holistic Silk in connection with this offer, and will be asked if they wish to opt in to receive marketing communications from Liz Earle Wellbeing and Holistic Silk. We never share marketing data with anyone else and you can unsubscribe at any time. You can read our privacy policy here.
The winner's details will be shared with Holistic Silk so that they can arrange their prize.
A limit of one entry per person will apply.
No bulk, third party or automated entries are accepted.
No responsibility is accepted for any entries that are incomplete, lost or delayed or are unable to be handed in because of any technical fault or other reason.
The start date of the competition is May 17th 2021 and the closing date for entries is May 31st 2021.
One winner will be selected at random after the competition has closed and will receive one 48-Hour Holdall from Holistic Silk.
The winner may be requested to take part in publicity.
The prize is non-transferable and valid upon confirmation with the Holistic Silk team.
The prize cannot be exchanged for a cash prize and we reserve the right to replace the prize for one of equal value without notice.
The winner will be contacted via email in June by the Liz Earle Wellbeing team. If no response is received by the Wellbeing team from the winner within one week of our email, we cannot guarantee that the prize will still be available.
Liz Earle Wellbeing registered office: Beech House, Bank, Lyndhurst, Hampshire SO43 7FD, United Kingdom