Competition closed: Win a KitchenAid food processor worth £179!
Win the latest 2.1L Food Processor from KitchenAid worth £179!
Three lucky winners will each receive the new KitchenAid 2.1L Food Processor, ideal for chopping vegetables, stirring up a salsa or kneading dough.
About your prize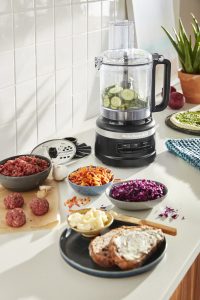 A food processor is a do-it-all essential for chopping, pureeing, mixing, shredding, blending and kneading. The KitchenAid 2.1L Food Processor does all of these tasks and more, making life easier by eliminating the need for numerous kitchen gadgets, saving you time and space.
The click-in bowl and lid are easy to use. Both the lid and centre blade assembly have silicone seals that help keep food and liquids inside the bowl. Multi-use reversible blades make light work of chopping vegetables for soup and can transform tomatoes, red onion and fresh chilli into a salsa in seconds; mix up a tray bake of frozen fruit, nuts, oats and dried fruit; create a colourful coleslaw, julienne potatoes for rösti or quickly thicken cream.
The robust, space-saving design of the KitchenAid 2.1L Food Processor is super easy to put together. The bowl clicks into the base with little effort, and the hinged lid helps keep countertops clean when adding ingredients or scraping down the sides of the bowl. Two speeds and a pulsing option for maximum control and multifunctionality achieve the best results every time.
Speed and pulse options are controlled by easy-to-operate paddle-style buttons to whip, whisk and emulsify. High speed offers plenty of power to knead dough and speedily shred large blocks of cheese. The pulse option is the go-to for giving nuts a rough chop or for adding more ingredients without over-processing. The two-in-one feed chute makes adding ingredients and liquid super simple.
All blades and discs can be neatly stored inside the bowl when not in use. The KitchenAid 2.1L Food Processor is easy to clean, while the bowl and accessories are dishwasher safe and also simple to rinse by hand.
Three lucky winners can choose from six colours including Matte Black, Empire Red, Almond Cream, Contour Silver, Onyx Black and Pistachio.
Find out more about KitchenAid
How to enter
This competition is closed.
Terms and conditions
This competition is open to everyone except for Liz Earle Wellbeing and KitchenAid employees and contractors (and their families), their associated companies, agents and anyone directly connected with the organisation, and operators of its brands.
Competition is open to UK and RoI residents aged 18 or over.
Entrants may be contacted by Liz Earle Wellbeing and KitchenAid in connection with this offer, and will be asked if they wish to opt in to receive marketing communications from Liz Earle Wellbeing and KitchenAid. We never share marketing data with anyone else and you can unsubscribe at any time. You can read our privacy policy here.
The winner's details will be shared with KitchenAid so that they can arrange their prize.
A limit of one entry per person will apply.
No bulk, third party or automated entries are accepted.
No responsibility is accepted for any entries that are incomplete, lost or delayed or are unable to be handed in because of any technical fault or other reason.
The start date of the competition is 1st April 2022 and the competition will close midnight 31st May 2022.
Three winners will be selected at random after the competition has closed and will each receive a KitchenAid 2.1L Food Processor.
The winner may be requested to take part in publicity.
The prize is non-transferable and valid upon confirmation with KitchenAid.
The prize cannot be exchanged for a cash prize and we reserve the right to replace the prize for one of equal value without notice.
The winner will be contacted via email in April by the Liz Earle Wellbeing team. If no response is received by the Wellbeing team from the winner within one week of our email, we cannot guarantee that the prize will still be available.
Liz Earle Wellbeing registered office: Beech House, Bank, Lyndhurst, Hampshire SO43 7FD, United Kingdom