Competition closed: Win a cooling menopause bedding bundle from Soak&Sleep worth £500
We're giving away a cooling menopause bedding bundle from Soak&Sleep to one lucky reader!
About your prize
One reader will receive a bundle from Soak&Sleep that includes:
Why Soak&Sleep's bundle is perfect for menopause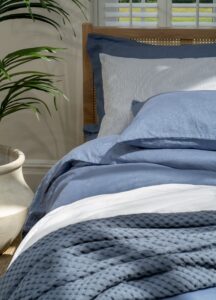 We all love the feeling of a great night's sleep, waking feeling revived, refreshed and ready to embrace the day. But, as many of us know only too well, great quality sleep isn't always easy to achieve. Making sure you have the right bedding for your needs can make the world of difference. That's where Soak&Sleep comes in.
Over 60% of women report that their sleep worsens during the menopause. The symptoms of menopause such as insomnia, anxiety and headaches can wreak havoc on sleep quality, leaving you feeling exhausted during the day. Hot flushes, in particular, can disrupt what should be a blissful, restorative rest. There are several ways to make nighttime more comfortable for anyone experiencing hot flush symptoms and having the right bedding is key.
The perfect materials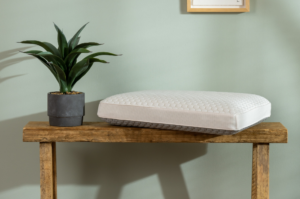 Choosing materials that help regulate temperature is a good place to start, as they wick moisture away and control humidity in the area around your body. Naturally temperature-regulating New Zealand wool duvets and pillows are a great choice and French Linen makes a fantastic accompaniment to help you sleep at the perfect temperature all year round.
Soak&Sleep's innovative Cooling Memory Foam Range has been designed to help make sleep more comfortable. Memory foam was invented by NASA to reduce cabin pressure during take-off, due to its adaptive nature. Its ability to mould around your body and head means memory foam provides excellent support whilst sleeping. Infused with a cooling gel, this range is designed for people who love the support of memory foam but struggle with the way it holds onto heat. Soak&Sleep's fabulous Cooling Pillow, Mattress & Topper are ideal for a cooler, fresher way to sleep.
Approved for menopause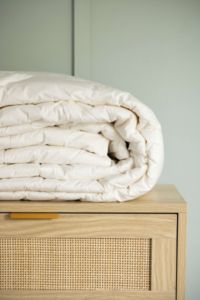 This range is endorsed by the Menopause Experts Group (MEG). Soak&Sleep has partnered with the Menopause Experts Group, an award-winning leading source of educational information and support. MEG provides solutions and guidance for everyone affected by negative symptoms like brain fog, joint pain, and sleep disorders. The brand is also proud to be a Menopause Experts Group Approved Business.
"There is no doubt that having the right bedding aids sleep, making it more comfortable when experiencing troublesome menopausal symptoms like; hot flushes or night sweats – a game-changer for me personally," says Dee Murray, CEO & Founder of Menopause Experts Group. "I road-tested all the products that I've recommended. Soak&Sleep has helped me achieve a deeper and more comfortable sleep, and after testing, we awarded them Menopause Approved status on certain products in their range."
Find out more about Soak&Sleep at soakandsleep.com or contact the team at 01483 616616 and [email protected].
How to enter
This competition is now closed.
Terms & Conditions
This competition is open to everyone except for Liz Earle Wellbeing and Soak&Sleep employees and contractors (and their families), their associated companies, agents and anyone directly connected with the organisation, and operators of its brands.
Competition is open to UK and RoI residents aged 18 or over.
Entrants may be contacted by Liz Earle Wellbeing and Soak&Sleep in connection with this offer, and will be asked if they wish to opt in to receive marketing communications from Liz Earle Wellbeing and Soak&Sleep. We never share marketing data with anyone else and you can unsubscribe at any time. You can read our privacy policy here.
The winner's details will be shared with Soak&Sleep so that they can arrange their prize.
A limit of one entry per person will apply.
No bulk, third party or automated entries are accepted.
No responsibility is accepted for any entries that are incomplete, lost or delayed or are unable to be handed in because of any technical fault or other reason.
The start date of the competition is 1st October 2023 and the competition will close midnight 31st October 2023.
One winner will be selected at random after the competition has closed and will receive from Soak&Sleep 1 x Memory Foam Cooling Pillow, 1 x Memory Foam Cooling Topper, 1 x French Linen Bedding Set, and 1 x New Zealand Wool Duvet.
The winner may be requested to take part in publicity.
The prize is non-transferable and valid upon confirmation with Soak&Sleep.
The prize cannot be exchanged for a cash prize and we reserve the right to replace the prize for one of equal value without notice.
The winner will be contacted via email by the Soak&Sleep team. If no response is received by the Wellbeing team from the winner within one week of our email, we cannot guarantee that the prize will still be available.
These terms and conditions shall be governed by the laws of England and Wales and subject to the exclusive jurisdiction of the English courts.