Competition closed: Win a Menopause Bedtime Bundle from Soak&Sleep worth over £600!
Win a Menopause Bedtime Bundle from Soak&Sleep worth over £600! It's everything you need to prepare for a soothing slumber.
Plus, two lucky runners up will also receive a silk eye mask and silk scrunchie worth over £25!
About your prize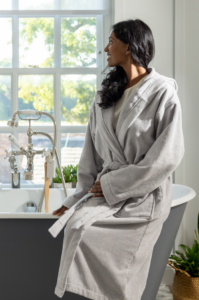 Our winner will receive:
Soak&Sleep's Menopause Bedtime Bundle offers the perfect evening ritual to set you up for a comfortable night's sleep. Whether it's hot flushes, insomnia or anxiety, your bedding and nightwear can help you sleep more comfortably.
Begin by enjoying a warming bath, before slipping into the fabulous Turkish Cotton Bathrobe. Its soft, velvety fabric is perfect for snuggling up on the sofa with a good read and will keep you warm and cosy, even throughout the colder months.
The Silk PJ Set – available in two dreamy colours – is made from high-quality silk, ensuring a luxurious feel. Not only that, silk naturally wicks moisture away from the skin, ensuring you feel comfortable all night long.
The All Seasons Wool Duvet is naturally temperature regulating, ensuring optimum night-time comfort, whatever the season. Plus, the French Linen Set – available in a number of shades to suit your colour scheme – is a brilliant temperature-regulating material, helping you to keep cool in the summer and warm in the winter.
Two runners up will each receive:
About Soak&Sleep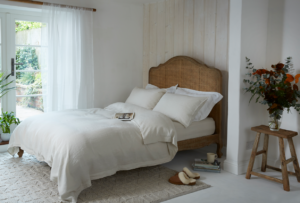 Sleep is an essential part of wellbeing, and Soak&Sleep is a brand that puts quality sleep at the heart of its business. It sources quality bath, bedding and sleeptime accessories to ensure you feel comfortable and relaxed, allowing you to drift off with ease.
Not only that, Soak&Sleep has also created its Better Sleep Hub. This online tool is full of useful guides, interesting facts and real case studies designed to help you better understand sleep, and make the right bedding decision tailored for you.
Soak&Sleep also has trained experts at the end of the phone and live web chat to help guide you to the right sleep solution.
Find out more about Soak&Sleep
How to enter
This competition has closed.
Terms & conditions
This competition is open to everyone except for Liz Earle Wellbeing and Soak&Sleep employees and contractors (and their families), their associated companies, agents and anyone directly connected with the organisation, and operators of its brands.
Competition is open to UK and RoI residents aged 18 or over.
Entrants may be contacted by Liz Earle Wellbeing and Soak&Sleep in connection with this offer, and will be asked if they wish to opt in to receive marketing communications from Liz Earle Wellbeing and Soak&Sleep. We never share marketing data with anyone else and you can unsubscribe at any time. You can read our privacy policy here.
The winner's details will be shared with Soak&Sleep so that they can arrange their prize.
A limit of one entry per person will apply.
No bulk, third party or automated entries are accepted.
No responsibility is accepted for any entries that are incomplete, lost or delayed or are unable to be handed in because of any technical fault or other reason.
The start date of the competition is 1st October 2022 and the competition will close midnight 31st October 2022.
One winner will be selected at random after the competition has closed and will receive a Wool Duvet (All Seasons) in their chosen size, a French Linen Set in their chosen size and colour, a Turkish Cotton Bathrobe in their chosen colour and a Silk PJ Set in their chosen size and colour. Two runners up will receive a Silk Eye Mask and Silk Scrunchie each.
The winner may be requested to take part in publicity.
The prize is non-transferable and valid upon confirmation with Soak&Sleep.
The prize cannot be exchanged for a cash prize and we reserve the right to replace the prize for one of equal value without notice.
The winner will be contacted via email by the Liz Earle Wellbeing team. If no response is received by the Wellbeing team from the winner within one week of our email, we cannot guarantee that the prize will still be available.
Liz Earle Wellbeing registered office: PO BOX 78349, London, SW11 9QU, United Kingdom