Christmas gifts for dog lovers
Uncertain about Christmas gifts for the dog lovers in your life? Pet owners can be particular about their four-legged friends, but that doesn't mean finding presents needs to be tricky.
From sustainable chew toys to matching winter coats or even a bespoke illustration, we've found something for every pooch-loving person around.
Raincoat for wet days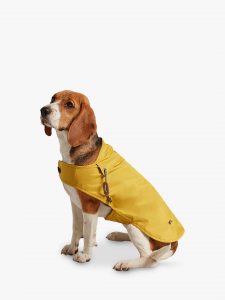 Keeping furry friends dry during the winter months is always top on dog owners' lists. You're sure to score points with an adorable dog raincoat from Joules.
Lightweight and water-resistant, this mustard-yellow number ensures walks can take place whatever the weather. The cosy inner lining keeps pooches toasty on the inaugural Boxing Day walk, too. Plus, it's machine washable, so there's no need to worry about mud stains.
If you want to spend a little extra, Joules has a matching coat for humans, as well!
Joules Mustard Dog Raincoat from £14.00
Joules Shoreside Waterproof Coat, Antique Gold from £89.95
Personalised dog notebook for 'ruff' notes 
Everyone loves getting a fresh notebook in time for the New Year, and even better when it's covered in dogs. This A5 journal from Papier features a colourful 'Pups' design. It can be customised with lined, plain or dotted paper, as well as with a name or title. 
To make it more unique, you can add a pet's name instead. Perfect for keeping dog-related notes to hand.
Some lucky breeds, including Huskies and French Bulldogs, have got dedicated versions of the same notebook, making the gift even more personal.
Papier Pups Notebook from £16.99
Recycled toys for playtime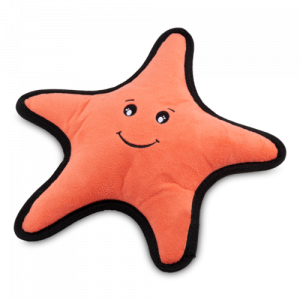 Beco Pets has an excellent selection of chew toys made from natural rubber, recycled plastic or hemp rope. The brand's soft squeaky toys are especially great if you're in the market for a small gift or stocking filler.   
There are a number of fun animals to choose from, including a Giraffe, Parrot and Monkey, and each comes in a range of a sizes to ensure great fits for all pets. 
As the hardy cloth material is made from recycled plastic bottles, these are sustainable and durable, too. Or, try the Rough & Tough versions of the plushies, such as this starfish, for big-time chewers.
Beco Pets Recycled Soft Animals from £6.99
Beco Pets Recycled Rough & Tough Starfish from £8.99
A bespoke pet illustration for the mantelpiece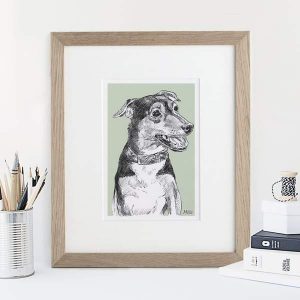 Surprise your loved one with a gorgeous framed sketch of their pet. Offered by Letterfest, this Christmas gift option guarantees a keepsake they'll treasure forever.
The illustration is hand-drawn as a simple outline and then printed onto a background of your choice. Choose from duck-egg blue, sage green or sandstone.
All you need to do is upload or email over a photo of their dog, and Letterfest will do the rest! 
Letterfest Bespoke Pet Illustration from £38.00
A luxury body wash for happy baths all round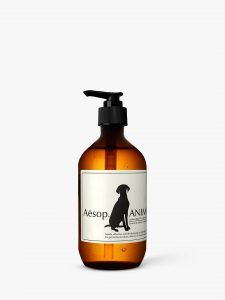 Aesop is renowned for its gorgeous hand, skin and body products – but humans aren't the only ones the brand makes formulations for.
The Animal Body Wash is crafted with the same care and attention as Aesop's products for people. Like all of the brand's products, this one is vegan and cruelty-free.
Effective at deodorising and calming sensitive skin, this gentle fur cleanser is ideal for pampered pooches. It also doubles as a hand wash!
Plus, as it's scented with lemon rind and tea tree leaf, everyone is sure to smell delightful. A little goes a long way, too.
Aesop Animal Body Wash 500ml from £27.00
Scented candle for neutralising smells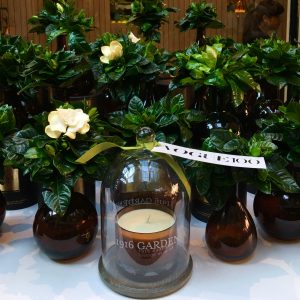 The fresh scents from the candles made by True Grace are ideal for eliminating any unpleasant odours caused by pets. Inspired by the great outdoors and the English countryside, True Grace offers a range of gorgeous scented candles that are eco-concious too.
The candles are a blend of responsibly sourced European and GM-free rapeseed wax and beeswax. The wicks that True Grace uses are pure cotton (rather than nylon), offering a cleaner burn.
Liz Earle Wellbeing readers enjoy 10% off at True Grace. Enter the code LIZLOVES at checkout to enjoy your discount
Find out more about True Grace
A-Z dog breed puzzle for rainy days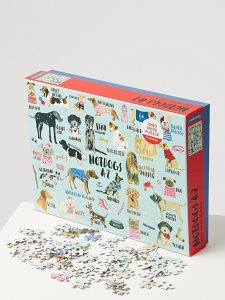 Who doesn't love a Boxing Day puzzle? Featuring adorable canine artwork by Carolyn Gavin, this 1000 piece dog-themed jigsaw is perfect for the festive period, or any rainy days afterwards.
The puzzle is illustrated with 26 dog breeds, with one for each letter of the alphabet, making it a fun and educational gift for any dog lover. You could even compete to see who can piece together their favourite breed first!
Hot Dogs A-Z 1000 Piece Jigsaw Puzzle from £14.99
Please note, on some occasions, we earn revenue if you click the links and buy the products, but we never allow this to bias our coverage and always honestly review. For more information please read our Affiliate Policy.
More Christmas gift guides
Words: Tilly Alexander