Festive gifts foodies will love for Christmas 2021
'Tis the season of giving… and eating! That's why we've put together 10 fantastically festive gifts the foodies in your life will love to receive this Christmas.
Whether they're a fan of artisan teas or something a little boozier, read on for the 10 best Christmas gifts for foodies in 2021.
Best gifts for foodies this Christmas
The perfect bottle of bubbles for the festive season – minus the headache the morning after. Following on from the successes of our Blush Rose kombucha, our second collaboration with our friends at Mighty Brew is the ideal non-alcoholic tipple for any special occasion. 
Specially matured using the finest organic ingredients, with subtle floral notes of citrusy white elderflower blossom, our kombucha is sublimely balanced with the exquisite dryness of white Muscat grape. 
Not only does it taste delicious, but it's packed full of fermented, gut-friendly goodness. You can be sure you're not gifting any nasties this Christmas. Plus, you can use the code LIZLOVES for a special 10% discount.
Bottles are £11 each, or buy a case of six for just £54.
Find out more about our Heritage Elderflower Sec Kombucha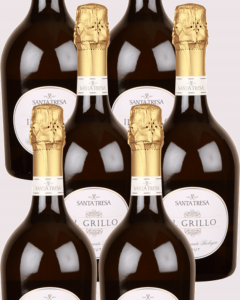 Wondering what to gift the fizz lover in your life? The Liz Earle Wellbeing Organic Wine Box, of course. 
This top-quality Sicilian fizz is one of Liz's faves for the festive season. It's made from 100% Grillo grapes that give a great balance between fruitiness and a refreshingly zingy tang. 
Reminiscent of wildflowers, nectarine and white peach, it offers a touch more flavour and depth than prosecco. Made by the award-winning winemaking Girelli family, il Grillo is organic and comes in a beautifully stylish bottle.
The wine box contains six bottles of bubbly for £75 (RRP £83.40).
Find out more about the Liz Earle Wellbeing Organic Wine Box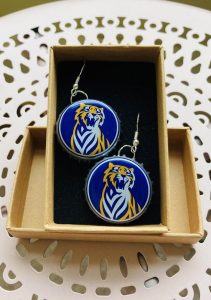 Give ale fans a gift they'll love this Christmas with these fun bottle cap earrings from Handmade by Molly Co.
Choose from a variety of designs to find your loved one the perfect pair, with each handcrafted in the UK using recycled bottle caps. We especially love the Tiger Beer and Gold and Black designs – perfect for a striking look!
With free UK delivery, these one-of-a-kind gifts are the ideal stocking filler for foodies.
Find out more about Handmade by Molly Co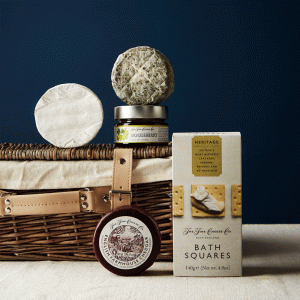 Christmas wouldn't be complete without a cheeseboard full of flavourful fromages. The beautifully British Wickerloo hamper from The Fine Cheese Co. will be a tough gift to beat.
Alongside three British cheeses – Cheddar, Waterloo and a baby Burt's Blue – the beautiful basket also holds Bath Square crackers to load up and gooseberry fruit to generously garnish with.
Not only that, but the grey wicker basket can also be reused time and time again when the weather warms up for picnics.
The Bath-based company is a maturer, wholesaler, retailer and exporter of artisan British cheeses, most of which are unpasteurised and all of which are traditionally made. The Fireside Winter Warmer (£31) and Old School (£37) cheese and partner selections have also caught our eye. 
Find out more about The Fine Cheese Co.
After a present for a particularly health conscious foodie? The Liz Earle Wellbeing team loves The Governor's Premium Unfiltered extra virgin olive oil.
Extra virgin olive oil has countless health benefits, from powerful antioxidants and strong anti-inflammatory properties.
With olives picked from trees ranging from 100 to 500-years-old, this cold pressed within hours and produced naturally with no use of chemicals.
On top of the wellbeing benefits, 10% of all purchases will be donated to the Pink Ribbon Foundation, supporting those affected by breast cancer.
Our exclusive LIZLOVES discount code will get you 10% off the price, too.
Find out more about The Governor Premium Olive Oil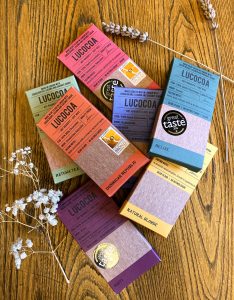 Launched in 2015, chocolate company Lucocoa was born after founder Amarachi Clarke realised that there was no breadth or depth of offering in a market dominated by poor quality chocolate.
Lucocoa now makes chocolate from bean to bar by removing all nasties and without the use of refined sugar. Instead, the chocolate connoisseurs use unrefined coconut sugar and lucuma fruit from Peru. The company also uses only the highest quality criollo and trinitario beans, and pay  above the market rate to ensure the wellbeing of farmers and their families.
Shopping for a chocoholic? Plump for the set of 6 Lucocoa chocolate bars (£14.04), which includes the 50% Milk, 60% Haiti, 73% Belize, 73% Guatemala, 70% Dominican Republic, Natural Blonde bars.
Find out more about Lucocoa Chocolate
Nothing beats cosying up with a cuppa and a good book. This unique tea selection from Rare Tea Company wraps that feeling all up into one beautiful Christmas gift.
Coming with a copy of Henrietta Lovell's novel, Infused – Adventures in Tea, to take you globe-trotting around the world through the eyes of a tea buyer, the set also has six different tantilising tastes to sip as you peruse the pages.
Tea flavours include rare Earl Grey, silver tip white tea, single estate lost Malawi English breakfast, South African wild rooibos, Chinese iron goddess oolong and Chinese whole leaf green tea.
Find out moe about Rare Tea Company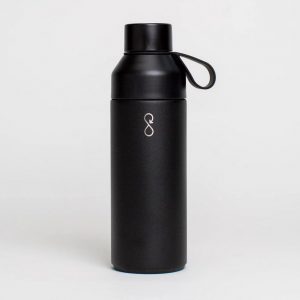 Looking for something for the eco-conscious foodie in your life? A reusable water bottle should do the trick – the award-winning Ocean Bottle, to be exact.
Made from double wall vacuum-insulated stainless steel as well as recycled materials, these bottles will reliably keep cold drinks cold and hot drinks hot.
The bottle also stops vast amounts of plastic ending up in our oceans. For every sale of every product, Ocean Bottle contributes directly to Plastic Bank, who ensures 11.4kg of plastic (the equivalent to over 1000 plastic bottles) will always be collected.
Aside from its eco-credentials, the bottle has got an anti-leak dual opening lid, and its shape makes cleaning a breeze (it's also 100% dishwasher safe).
Find out more about Ocean Bottle
It wouldn't be a Liz Earle Wellbeing Christmas without a healthy(ish) hamper, now would it? Our pick from Planet Organic – the Luxury hamper – houses premium products from premium producers.
Inside, your recipient will find sweet delights such as low-sugar almond truffles, coconut crunch biscuits, and liquorice spirals as well as savoury temptations like sourdough flatbreads, fresh artichoke pate and raw basil pesto. 
To top it off, there are a couple of bottles of booze added into the mix, too.
Find out more about Planet Organic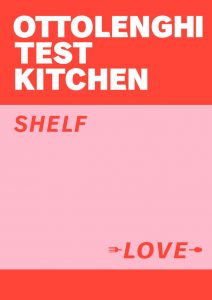 Yotam Ottolenghi's latest cookbook, Shelf Love, which launched in September 2021, will take the recipient on a journey through their kitchen cupboards, inspiring them to make delicious recipes using simple ingredients.
The book is all about feeding ourselves and families, minus the stress and fuss. The dishes truly pack a punch, synonymous to Ottolenghi's cooking stlye. There's a guide to creating the creamiest, dreamiest hummus as well as a tomato salad and confit tandoori chickpeas. Have we tempted you yet?
It's ideal for those times when you're wondering what on earth to cook with what you've already got in the fridge.
Find out more about Ottolenghi Test Kitchen
Read more articles like this
Please note, on some occasions, we earn revenue if you click the links and buy the products, but we never allow this to bias our coverage and always honestly review. For more information please read our Affiliate Policy.