Christmas gift ideas for foodies
Looking for Christmas gifts for foodies? The festive season has many delights to offer, especially for our taste buds.
But, with so many fantastic options out there, it can be hard to choose!
Our list of top Christmas gifts for foodies will help you source the perfect gift for any loved one, whatever their tastes.
Indulge in chocolate treats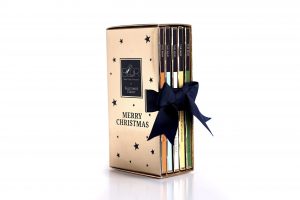 We love the chocolate from Salcombe Dairy. Salcombe Dairy uses milk fresh from Devon in its products. Along with chocolate, you'll also find the company produces delicious ice cream and frozen yoghurts.
Especially for Christmas, we love the Christmas Chocolate Selection Box. Featuring festive flavours such as boozy Christmas Pudding, Milk Chocolate Orange and Rum & Raisin, it's the ultimate treat for Christmas indulgence!
Plus, Liz Earle Wellbeing readers enjoy 10% off each order – just use the code LIZLOVES at checkout.
Christmas Chocolate Selection Box from £20
Delight with a luxury tea and coffee hamper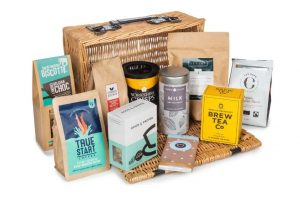 This Ultimate Christmas Tea & Coffee Hamper from Coffee Box is the perfect gift for any serial tea or coffee drinkers in your life.
With multiple blends of coffee, tea and even hot chocolate, this thoughtfully curated box has something for everyone. It also contains biscotti, crisps and other snacks, too.
All of this comes in a gorgeous luxury buff willow hamper, saving you on wrapping. Plus, it's perfect for storing tea and coffee essentials in the future.
Coffee Box Ultimate Christmas Tea & Coffee Hamper from £65.00
Luxury organic wine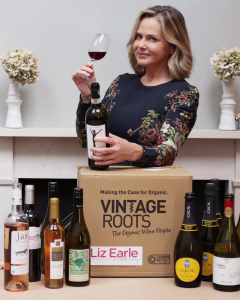 Collaborating with Vintage Roots, an award-winning organic drinks supplier, Liz has personally put together some of her all-time favourites from the wonderful world of organic and biodynamic wines.
From rich reds to a fragrant rosé via whites and a pudding wine, this carefully curated case is a great place to start to try wines lower in sulphites and free from harmful chemical fertilisers and synthetic pesticides.
At £149.50, this box has all you need for a festive period that's better for you and the environment.
Find out more about the Liz Earle Wellbeing Organic Wine Box
An artisan chocolate bundle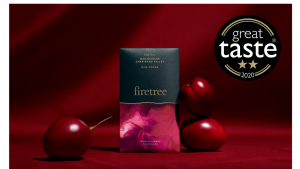 Christmas is renowned as a season of indulgence, especially when it comes to chocolate. A gift box from Firetree Chocolate is a dream stocking filler.
Firetree creates its blends of chocolate from cocoa trees grown in volcanic soil on the remote islands of the southern Pacific and Oceania.
The brand has sustainability and ethical practice at its heart. Firetree deals with cocoa farmers directly, paying a substantial premium above the market rate. This means farmers can commit to high agricultural standards.
The Firetree collection gift box features seven stunning flavours, ranging from 69% to 100% cocoa.  
Liz Earle Wellbeing readers enjoy 10% off at Firetree – use code LIZLOVES at checkout.
Get accredited with a cheese-tasting course
The Academy of Cheese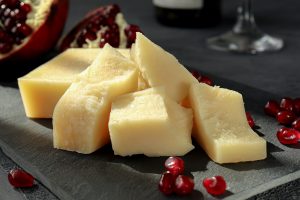 's interactive web classes promise to be a fantastic experience for any cheese lovers in your life. There are plenty to choose from at a range of levels. These all offer bountiful cheese knowledge – as well as an accreditation.
Quicke's Associate Level course is a great option for anyone looking to begin their cheese appreciation journey. Based in Devon, the Quicke family farm has been crafting cheese for almost 500 years, and is renowned for its award-winning clothbound cheddar.
Sam Wilkin, Head Cheesemonger of The Cheese Bar Group, teaches the course over three two-hour webinars. It also includes a selection of cheeses for students to try along the way.
Sessions will cover nine distinct areas, including the cheesemaking process and how to identify 25 different cheeses. They'll be a pro in no time!
Academy of Cheese Level One Associate Learning Programme and Certification from £125.00
Upcycled earrings for ale lovers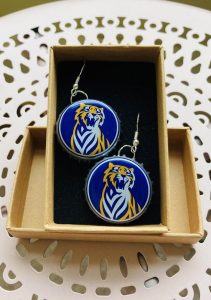 Give ale fans a gift they'll love this Christmas with these fun bottle cap earrings from Handmade by Molly Co.
Choose from a variety of designs to find your loved one the perfect pair, with each handcrafted in the UK using recycled bottle caps. We especially love the Tiger Beer and Gold and Black designs – perfect for a striking look!
With free UK delivery, these one-of-a-kind gifts are the ideal stocking filler for foodies.
Find out more about Handmade by Molly Co
Gift premium extra virgin olive oil
Extra virgin olive oil is the healthiest and highest-quality olive oil available. This is because the oil is extracted without the use of high heat or chemical solvents, which can tarnish its precious glow-giving nutrients.
We particularly love the olive oil made by The Governor. The ideal Christmas gift for foodies, The Governor produces this premium extra virgin olive oil naturally without using chemicals.
The olives are picked from trees ranging from 100 to 500 years, with the oil being cold pressed within hours at a low temperature to maintain the quality of the oil.
Liz Earle Wellbeing readers enjoy 10% off at The Governor Olive Oil – use code LIZLOVES at checkout.  
Purchase The Governor Extra Virgin Olive Oil
Tantalise taste buds with a DIY spiced rum kit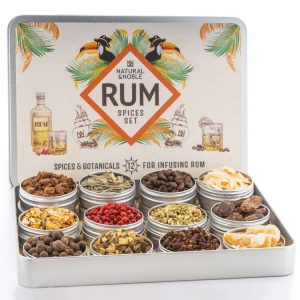 We adore The Food Market's fabulous kits and hampers, and this make-your-own spiced rum kit from Natural & Noble is especially fun.
Featuring twelve spices and botanicals, this kit is great for any experimental foodies needing an at-home activity this winter.
This gift will give food lovers the chance to create the perfect festive rum with flavours including toasted coconut, estate coffee, citrus and more. Infuse spices alone or mix with others to create countless combinations.
There's also a detailed guide to get them started. 
Natural & Noble Make Your Own Spiced Rum Kit from £23.99
Eco-friendly dish brush bundle for conscious chefs
C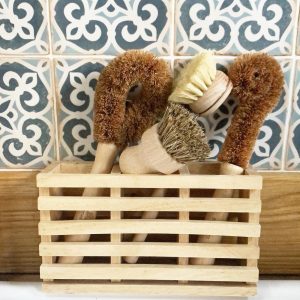 hristmas is a time for giving, so give back to the planet too with this eco-friendly dish brush bundle. It's an excellent choice for any environmentally-conscious chefs.
Made entirely from wood and plant fibres, this full set of cleaning brushes helps keep kitchens clean, as well as the world!
Featuring two coconut brushes, a wooden pan scrubber and a sisal dish brush, this set has everything you need. Plus, it's 100% plastic-free and fully biodegradable.
It also makes a great stocking option for any young adults about to move out.
Earth Bits Eco Friendly Dish Bundle from £15.96
Freshen up with a handprinted apron and oven glove set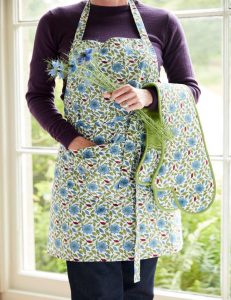 Brighten up a winter's day and gift this chic floral apron and double oven glove set from Sophie Conran.
This charming duo is made from 200-thread count cotton and features a delightfully fresh cornflower pattern in green, red and blue.
Each design has been hand-cut by experienced artisans in Jaipur, India, and block-printed using a traditional method.
Sophie Conran Cornflower Hand Print Apron and Double Oven Glove Set from £48.00
Recipe book to write down family favourites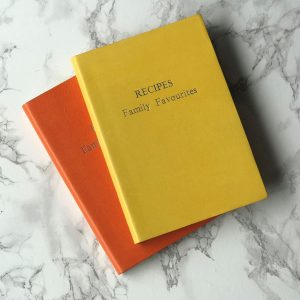 All home chefs will adore the chance to put their secret family recipes on paper with this gorgeous handbound recipe book.
The book has been handmade using real leather and high-quality lined paper, so it's sure to last – just like any family recipes recorded here!
Available in Royal Blue, Orange and Yellow colourways, this eye-catching notebook will be hard to lose, and is likely to pique the interest of any guests.
Inkerman Family Favourites Recipe Book from £48.00
Find more Christmas gift guides
Please note, on some occasions, we earn revenue if you click the links and buy the products, but we never allow this to bias our coverage and always honestly review. For more information please read our Affiliate Policy.
Words: Tilly Alexander