Sticky barbecue molasses chicken
Forget burnt sausages and dubious looking burgers, everyone needs a good recipe for chicken with sticky barbecue sauce to delight friends and family in the summer and Shivi Ramoutar's recipe is just the ticket. Leave out the rum and bitters if cooking for little ones.
Ingredients
12 large chicken thighs, bone in and skin on
2 spring onions, chopped
1 large red chilli, chopped
Salt and pepper
For the molasses barbecue sauce
3 tbsp rapeseed oil
1 onion, roughly chopped
6 cloves of garlic, crushed
1 tsp ground coriander
1 tsp ground ginger
1 tsp cayenne pepper
400g tin chopped tomatoes
6 tbsp cider vinegar
200g molasses sugar
2 tbsp Worcester sauce
2 tbsp soy sauce
2 tbsp English mustard
1 tsp Angostura Bitters
1 lime, juiced
100ml good-quality dark rum
1 tbsp tomato purée
1/2 orange, zest only
Salt
Method
For the barbecue sauce, heat the rapeseed oil in a medium-sized saucepan. Add the onion with a small pinch of salt and sauté for about five minutes. Add the garlic, bay leaves and spices, stirring for about 30 seconds until the aromas are released, then add in the remaining ingredients. Bring to the boil, then reduce the heat and simmer with the lid off, for about 30 minutes, stirring regularly until thick.
Use a stick blender to blitz the sauce until smooth and season to taste. If the consistency of the barbecue sauce is still too loose, place it back into the saucepan and simmer on a low heat, stirring regularly, until it is right. Remember that as it cools it will thicken a little more.
In a large bowl, pour about half of the barbecue sauce over the chicken thighs and rub in well. Cover and leave to marinate overnight.
Pre-heat the oven to 180°C/350°F/gas mark 4. Place the chicken thighs onto a large baking tray (you may need to use two), along with the excess marinade from the bowl, cover with foil and bake for about 30 minutes.
Remove the chicken from the oven and finish off the thighs on the hottest part of the barbecue, basting with mor ebarbecue sauce as necessary until the skins are charred and the chicken is cooked through. Place on a plate and sprinkle over the chilli and spring onions and serve immediately.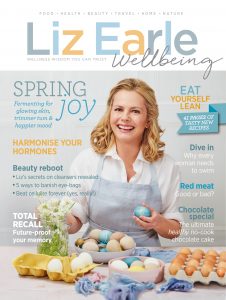 For more mouthwatering recipe ideas, subscribe to the magazine and get free P&P (UK).