Put the kettle on – our 6 favourite tea recipes
As a nation of tea lovers, many of us would feel lost without the ritual of tea drinking, whether it's the first steaming cup in the morning, a quick burning gulp on a break snatched at work, or a leisurely pot shared with a friend. The Wellbeing team get through endless cups of it every day, and to celebrate National Tea Day, we've collected together some of our favourite tea-based recipes, to draw inspiration from when a strong cup of builder's just isn't enough.
K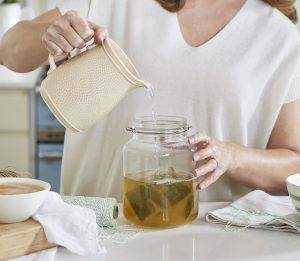 ombucha
Kombucha is undeniably an acquired taste, particularly if your taste buds have got used to your usual daily brew. One of Liz's favourite probiotic drinks to make, kombucha has a tangy taste, which you will find healthily addictive.
Fermented tea and pumpkin seed crackers
Kombucha doesn't just have to be for drinking! Made with fermented tea, these fantastically crunchy crackers keep well in a sealed container for up to one week. Top them with prebiotic-packed asparagus pâté for a light, moreish snack.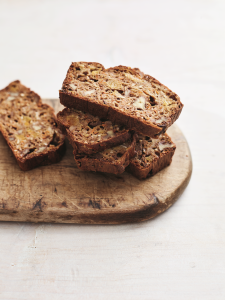 Menopause tea loaf
This tea loaf contains natural phytoestrogens from the linseeds, but it definitely isn't just for those going through the menopause! Earl Grey tea has a gorgeous, slightly floral flavour which works beautifully when soaked into the dried fruit to make a moist, flavoursome cake.
Turmeric tea with honey and lime
Turmeric has a wealth of amazing health benefits, including acting as an effective anti-inflammatory. This is a wonderful way to enjoy a refreshing hot drink that is caffeine-free, so can be enjoyed at any time of day.
Masala chai tea is the perfect comforting drink for when you need a hug in a mug. You can buy teabag filters to enjoy this spiced mix one scoop at a time, or can make your own using an old (clean) muslin cloth, sealed with a piece of string. If you get a taste for masala chai, mix up a big batch of this to keep in a Kilner jar.
Iced tea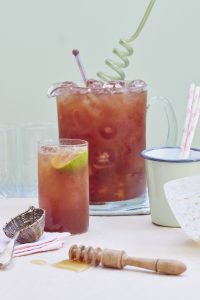 Even for staunch tea-addicts like the Wellbeing Team, a hot cup of tea isn't necessarily what we want to drink on a summer's day. This iced tea recipe is the perfect compromise, as you can benefit from the light, fragrant flavour of Earl Grey and fresh bergamot, while being refreshed and hydrated.