Liz's beauty bombs four ways
Beauty bombs are my way of blasting the skin with a mouthful of tasty, nutritious treats. Sweet and savoury, each one is packed with nutrients that make our skin glow. They keep well – either in an airtight container for up to 5 days or in the freezer for up to 1 month. To thaw, just take one out and put it on a plate, and it'll be ready to eat in 15-30 minutes.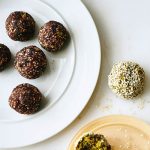 These bejewelled bombs are packed with antioxidant-rich berries, and have a delicious natural sweetness without the need for added sugar.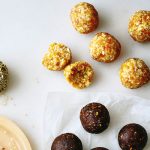 Whatever the weather outside, these vibrant orange-coloured tropical beauty bombs will offer a burst of sunshine and the flavour of summer with nutrients that will make you glow from the inside out.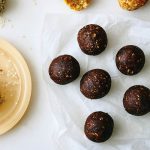 Richly flavoured, these dark beauty bombs have a grown up hit of bitter dark chocolate offset with sweet, treacle-flavoured dates.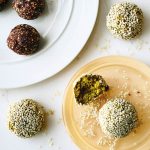 When the temptation to reach for a packet of crisps during an afternoon slump hits, opt instead for one of these savoury beauty bombs. They're filling and nutritious, and will keep you satisfied for longer, with the added bonus of beautifying, skin-saving nutrients.