Hazelnut salad with apple and goat's cheese
Although salads are obviously perceived as a summer dish, winter is as good a time as ever to nourish ourselves with immune-boosting fruit and vegetables to keep winter blues and bugs at bay.  
This hazelnut salad with apple and goat's cheese is particularly wholesome, full of blues-busting vitamins and nutrients. Hazelnuts are a good source of vitamin E, which may help protect against certain cancers and reduce the risk of cardiovascular disease. They can also help reduce blood pressure and inflammation, as well as stimulate our metabolism and keep us feeling fuller for longer.
Apples are packed with immune-boosting vitamins and nutrients. Add in some spinach (full of iron, vitamin K and powerful antioxidants), and this salad is a perfect light meal to help keep ourselves in tiptop condition, whatever the season.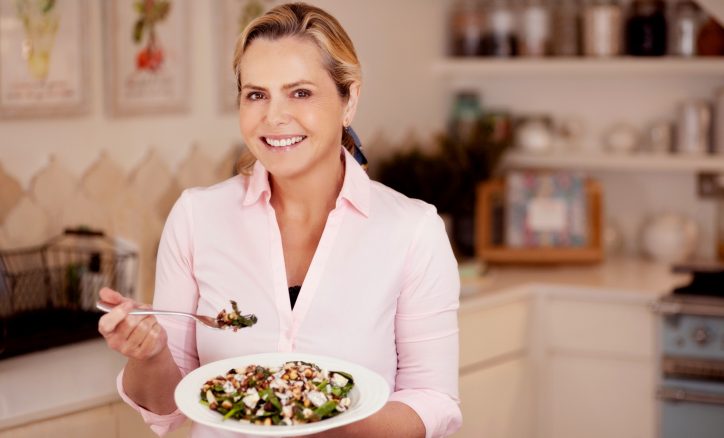 Wellbeing Wisdom
Hazelnuts are a good source of vitamin E, which may help protect against cancer and cardiovascular disease
Apples are packed with phytonutrients and antioxidants which may help reduce the risk of developing cancer
Ingredients
For the salad
100g shelled hazelnuts
2 red onions
1tbsp coconut or olive oil
4 garlic cloves
Handful fresh thyme
200g spinach
4 Braeburn apples, cored and diced
100g goat's cheese
For the dressing
250g live, plain natural yoghurt
2 tbsp Manuka honey
1 lemon, zest & juice
1 tbsp honey
2 tsp balsamic vinegar
Method
Preheat oven to 200°C/400°F/gas mark 6 and place the hazelnuts on a baking tray – roast for 5-7 minutes until golden.
Chop up the red onions finely and sauté in coconut oil (or alternatively olive oil) until soft in a non-stick saucepan. Add in the fresh thyme leaves and the crushed garlic cloves. Turn off the heat and toss in the spinach, apple and crumbled goats cheese.
Roughly chop up the roasted hazelnuts and scatter over the salad. Mix together your dressing ingredients and drizzle over the top