Our favourite vegetarian starters
We welcome any excuse to experiment with new recipes, and National Vegetarian Week (14th-20th May) seems like the perfect opportunity to add to our repertoire of recipes for vegetarian starters. We have rounded up our favourite vegetarian starters that showcase the amazing flavours of different vegetables and cheeses that shine on their own without the need for meat. We are confident that these will be popular with lifelong vegetarians and staunch carnivores alike.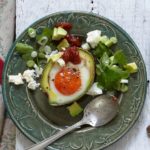 Avocado egg cups with chilli jam, spring onions and feta
These avocado egg cups don't just have to be for breakfast. Jewelled with spring onions and coriander and topped with a good dollop of chilli jam, they make a filling, flavoursome starter before a light supper on a warm evening. If you are newly vegetarian, eggs and feta are a great way of incorporating protein into your diet.
Bruschetta pomodoro
With ripe, fresh tomatoes and tangy balsamic vinegar, bruschetta pomodoro is a wonderfully light starter that encapsulates summer in every mouthful. The olive oil-drizzled, toasted sourdough is all that stops us from spooning the tomato mixture into our mouths straight out of the pan. This recipe contains only a handful of ingredients and it is this simplicity that makes it such an effective dish to serve as a vegetarian starter for friends, or simply to enjoy as a light lunch.
Roasted pumpkin and chilli soup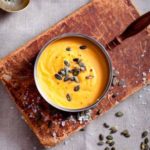 This spicy soup is perfect for those grey days when only something warming will suffice. This recipe is great for batch cooking and freezing, so after enjoying a small bowlful as a starter, the rest can be enjoyed for lunch at a later date.
Leek, black truffle and artichoke terrine
This terrine requires some forward preparation, but it is well worth the effort for the impressive starter that it results in. The layers of leek, truffle and artichoke hearts are served over a rich butterbean and garlic purée. This is the perfect dish to serve as a vegetarian starter for dinner with friends and family as once the terrine has been prepared in advance, the purée ingredients can be gently heated in a pan before blitzing with a stick blender and served straight away.
Loved this? Read on here: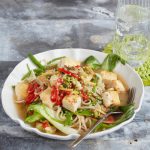 – Need some vegetarian meal inspiration? Check out some of our favourite vegetarian recipes here.