Recipes to celebrate the royal wedding
On the 19th May 2018, royalists up and down celebrated the marriage of Prince Harry and his fiancée Meghan Markle. We've collected all the bakes you need to make the big day especially memorable, whether you are watching the royal wedding in front of the TV with your close family, or are going all out with fancy dress, Union Jack bunting and a street party. From homemade scones to Prosecco flavoured strawberry jam, these treats will be the talking point of the party (after Meghan's dress). Cheers!
To eat…
Mini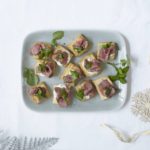 beef wellingtons
It is a truth universally acknowledged that all quintessential British gatherings must feature miniature versions of our favourite meals. These mini beef wellingtons with a kick of horseradish are perfect for sharing around a large group of friends and far less hassle than cooking a roast for everyone!

Red, white and blue (and green) salad with blackberries, Stilton and Parma ham
We're sticklers for a theme, and we think this salad fits rather well into a Union Jack (or American flag!) colour scheme. Multiply up the measurements to make a big bowlful that family and friends can dig in and help themselves to.
Healthy fish and chips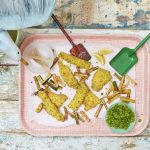 Buying fish and chips for the whole family can be pretty pricey, so why not make your own version of this national favourite – you could even eat it out of newspaper cones to save on washing up!
Something sweet…
Sp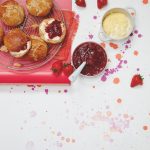 elt scones and Prosecco strawberry compote
If you didn't think the Great British summer staple of a cream tea could be improved upon, you clearly haven't tried our decedent Prosecco strawberry compote and all-butter spelt scones. This is the perfect way to enjoy sweet British strawberries this summer.
Red, white and blue (ish) honey cupcakes with fig and goat's cheese icing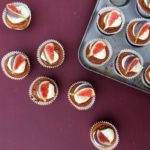 Ok, we know fig skins are more purple than blue, but they still look pretty patriotic! Goat's cheese and figs are a match made in heaven, which work particularly well with a honey cupcake. They're as delicious as they look, just make sure to hide away a personal stash as these grown up sweet treats are sure to disappear fast.
To charge your glasses…
Elderflower Cordial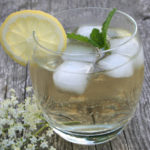 Make the most of elderflower season by preparing a bottle of this delicious elderflower cordial which can be enjoyed with sparkling water for a refreshing celebratory drink, or added to Prosecco for a floral lift.
Sour cherry and lime julep mocktail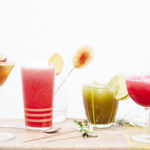 Designated drivers, this one is for you. This is a delicious way to enjoy an adult drink when joining in a toast to the happy couple, without the need for alcohol.
Orange blossom gin fizz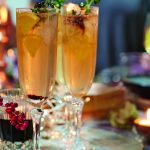 This is a true botanical treat, with lemon thyme, orange blossom honey, and orange blossom extract…Oh, and a hearty measure of gin. Serve chilled in a champagne flute.