Healthy chocolate and hazelnut butter
Ingredients
300g raw hazelnuts
5 tbsp cacao powder
1 tsp vanilla extact
3 tbsp maple syrup
5 tbsp runny honey
Organic coconut oil or hazelnut oil (optional)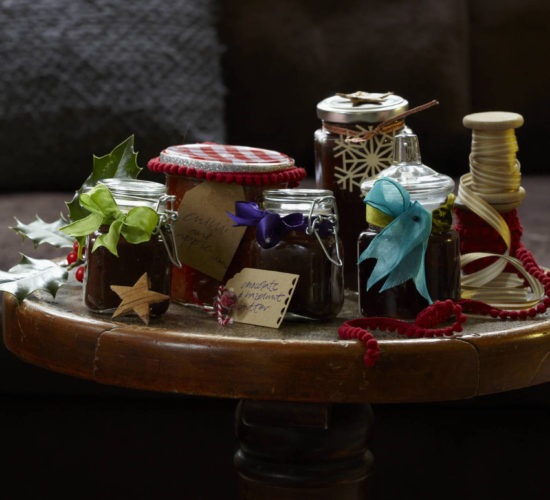 Be warned! This chocolate and hazelnut butter is addictive stuff, but a perfect present that's very easy to make for any chocoholic for the festive season. Or perhaps you could secretly enjoy it yourself, far away from anyone who might try and pinch some! Savour this delicious sweet treat and make the most of the many benefits of raw dark chocolate and nutritious nuts.
Method
Pre-heat the oven to 190°C/375°F/gas mark 5. Place the hazelnuts on a baking tray and roast for 8-10 minutes.
Turn the toasted hazelnuts into a clean, dry cloth, fold up the sides to form a bundle, then rub the hazelnuts together with the cloth until all their skins have come away.
Place just the nuts into a food blender and whizz together to form a nut butter. This can take a few minutes and you may have to push the ground nuts down from the sides of the blender bowl occasionally. The hazelnuts will eventually turn from coarsely ground nuts into a smooth, glistening paste as their oil starts to be released.
At this stage, add in the rest of the ingredients and blend again until well mixed. Taste for sweetness, adding in a little more honey if required. If your mixture is a little too thick to be easily spreadable, add a little coconut or hazelnut oil and blend again.
Spoon into clean jars with tight-fitting lids. Stores well in the fridge or at room temperature for up to 4 weeks.
Wellbeing Wisdom
Hazelnuts are a wonderful source of vitamin E and heart-healthy fats, plus the B vitamins essential for energy and a healthy nervous system
Dark chocolate is more filling than the milk variety, helping to curb cravings