Joe Wicks' 5 tips for keeping fit in winter
Since hitting the scene almost three years ago, Joe Wicks has gone from a popular personal trainer to bestselling author, social media superstar and owner of an ever-growing business with 100,000 clients to date. He shares some top tips to help even the most exercise-averse of us get fit and stay motivated this winter.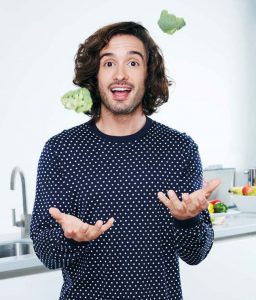 1. Schedule your workouts
Morning workouts are a winner in winter. You'll start the day with a spring in your step and your energy levels will be up for the day ahead, rather than having to come home and fit one in later on. Prepare your kit the night before so it's all ready.
2. Wrap up in winter gear
It's so important to have the right gear in the winter, especially if you are planning to go outdoors for your workouts. Invest in base layers such as leggings, gloves, winter socks and a warm hat – that way, you won't be able to blame the cold for missing a workout!
3. Make your home a gym
If you'd rather not venture out, there's so much you can do from your own home. A 20-minute session, three-to-five times a week – doing bodyweight exercises such as burpees, mountain climbers, high knees, skipping and press-ups – will keep you in tip-top shape.
4. Drink plenty of water
Drink two-to-four litres of water a day, depending on your body composition, and start as soon as you get up in the morning. It's tempting in the colder months to indulge in sugary hot drinks, but try to opt for green tea or warm water with a slice of lemon.
5. Don't go at it alone
There's no better way to stay motivated than having someone else to plan your workout schedule around so you feel more obliged to stick to it! Having someone to share your fitness journey is great for morale, even if it is just for a few sessions a week.
For easy HIIT workouts and more, check out Joe's YouTube channel and visit thebodycoach.co.uk
Loved this? Read on here:
Wellbeing Wisdom
A morning workout could help to boost your energy levels for the day
As soon as you get up in the morning, start drinking plenty of water. You should aim for between two-to-four litres of water a day, depending on your body composition
Stay motivated by sharing your fitness journey with a workout partner