Login to view this article
A few of our features and recipes are exclusive for our newsletter friends here at Liz Earle Wellbeing. If you'd like to join them, it takes seconds to sign up, it's completely free to do so, and you'll receive:
Instant access to all our website content
A personal 'My Wellbeing' page to save your favourite recipes.
A monthly newsletter where you'll be the first to find out about our exclusive offers, events and competitions.
Health and beauty benefits of the marigold flower
Named after the first day of the Roman calendar (Kalendae), the beautiful orange-yellow marigold flower, Calendula officinalis, has been used for centuries as a medicinal herb. There are many documented health and beauty benefits of the marigold flower, such as helping to soothe skin problems, speed up the healing process of burns and stings, and possibly even reduce our chances of contracting the all-too-common eye problem of age-related macular degeneration (AMD). With high quantities of antioxidants and vitamin C, this brightly coloured flower is a must for your garden and kitchen. The petals are delicious when dried and brewed as a tea, or when added to salads and juices for an extra health kick.
Health and beauty benefits of the marigold flower
Look after your eyes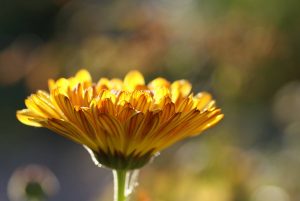 In 2007, a retired optician claimed to have almost cured himself of AMD by taking a supplement containing marigold flowers. Found in the macular lutea, lutein and zeaxanthin carotenoid pigments are responsible for protecting the retina from damage caused by light, but this makes them particularly susceptible to oxidative damage, which can lead to AMD. Luckily, the antioxidants found in the marigold flower are perfect for protecting our eye health and helping these all-important carotenoid pigments stay healthy.
Detox your liver
Thought to have some anti-cancerous properties, calendula petals are suggested to be a great detox for the liver and lymphatic system, clearing the build-up of potentially harmful cells in the body. Marigold petals can also help the function of the gall bladder, where bile from the liver is stored and concentrated before being released into the small intestine to aid with digestion.
Soothe your stomach
As the source of calendic acid, the health and beauty benefits of the marigold flower are particularly evident in the gastrointestinal tract. This unsaturated fatty acid of calendic acid is thought to help with gastric ulcers, stomach cramps and diarrhoea, soothing away tummy pains and indigestion.
Save your skin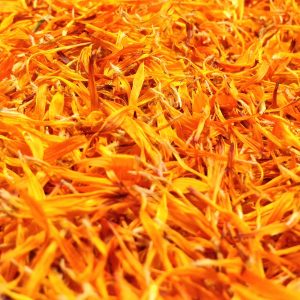 Containing a plethora of anti-bacterial, anti-fungal and anti-inflammatory properties, calendula is great for skin health. It has been used for centuries to soothe burns and stings, skin infections such as impetigo, and was even used as an antiseptic in World War I to clean wounds and injuries from the battlefields. Some people swear by calendula cream to hydrate dry or chapped skin, and even soothe eczema.
Grow your own marigolds
It is very important to know that not all marigolds have health and beauty benefits, the only variety that we would recommend to use is Calendula officinalis, not ornamental or other types of marigold which could have adverse effects on your health.
Marigolds are notoriously hardy, they are easy to grow and do so in almost any location, growing fast and sometimes up to 45cm tall. Some gardeners suggest that growing marigolds alongside beans can reduce the number of pests on the plants. Sow outside in full sun in March, April and May for flowers to appear throughout the summer and into early autumn. They are also wonderful indicators of the weather – if it is going to rain, the flowers don't open, hence why marigolds are sometimes referred to as 'the rain doctor'.
Loved this? Now read:
The health benefits of turmeric
Meet the Maker: Rosie Dickinson of The Healthy Juice Company 
Wellbeing Wisdom
Marigolds can possibly reduce our chances of contracting age-related macular degeneration (AMD)
Calendula contains a plethora of anti-bacterial, anti-fungal and anti-inflammatory properties