How to make a Christmas stocking
A Christmas stocking is a must at this time of year.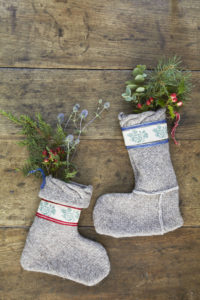 Along with being a handy place to hide all your presents, they also make jolly decorations too.
Here, we've put together a guide for making your own Christmas stocking. What's more, it's an excellent way to make use of and old jumper, reducing waste and saving a few pennies too.
What you will need:
An old woollen jumper
Paper
Pins
Needle and thread
(Optional) ribbon for decoration
How to make a Christmas stocking
Take an old woollen jumper and put through a boil wash so the fibres felt together and leave to dry.
Draw a wide stocking shape onto newspaper and cut out to form a template.
Pin the paper template onto the right side of the jumper and cut out one stocking shape, then turn the jumper inside out and pin and cut out another shape.
Put both stocking halves together (right sides facing) and sew around the edge leaving a 1cm hem. You could cut some detailing from the jumper to finish the top, such as the cabling shown in the picture above. Stitch it in place before turning the stocking through to the right side.
If you want to make the most of a jumper, you can piece smaller sections together to make up a stocking shape. Make a feature of the seams by having them show on the outside. Sew on some decorative ribbon to personalise.
Read more like this