Gold-dusted mixed berry pavlova
Ingredients
For the pavlova
4 egg whites, room temperature
160g icing sugar
2 tbsp freeze-dried raspberries (optional)
1 tbsp good balsamic vinegar
Handful of raspberries
2-3 figs, halved
150g redcurrants
1 passion fruit, seeds and pulp
1/2 pomegranate, seeds
Basil leaves
Gold glitter dust (from the cake decorating section of the supermarket)
For the spiced crème fraîche
500g crème fraîche
1 tsp cinnamon powder
1/2 tsp ground cloves
1/2 tsp ground cardamom seeds
1 orange, zest of all, juice of half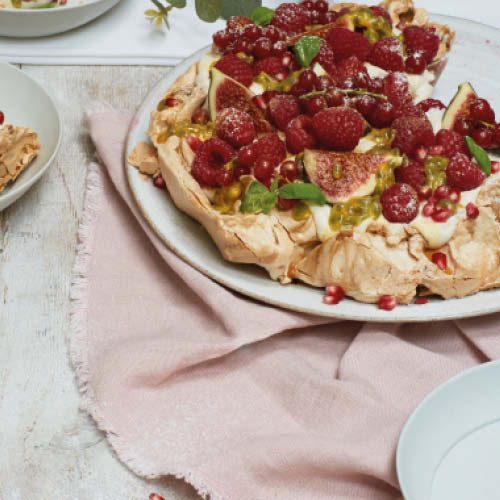 This mixed berry pavlova is a light, refreshing, yet decadent-tasting dessert to round off a heavy meal – especially at Christmas time. Piled high with plump figs, dusted with edible gold glitter and jewelled with pomegranate seeds and redcurrants, it's a show-stopping dessert that looks truly festive.
Method
Preheat the oven to 140°C/285°F/gas mark 1. Thoroughly clean and dry the bowl of your stand mixer, as egg whites will not whip if there is a trace of grease. You can give the inside a wipe with the cut face of a lemon and dry it with kitchen paper to be sure.
Start by slowly whisking the egg whites until they start to fluff up, then gradually increase the speed to maximum. Whisk for five more minutes then add the sugar, a tablespoon at a time. When you've used all the sugar, keep whisking for another five minutes until the whites are stiff and shiny, and when you spread it around it keeps its shape.
Gently fold in the dried raspberries, if using, and fold in the balsamic to give a ripple-like effect. The vinegar will give the meringue a soft, chewy centre.
Line a baking sheet with baking parchment and spread the whites into a large circle, about 20cm round. Make sure to give it hills and valleys as you go; places for the berries and cream to tumble and hide.
Bake in the oven for 1 1/2 hours, ten turn the oven off and leave to cool completely inside, with the door open just a crack. If you can't do this, just take it out and cool on the worktop.
Make the crème fraîche by stirring in the spices, orange zest and juice, then whisking gently. Cover and keep in the fridge until needed.
Transfer the meringue to a serving dish and top with the crème fraîche, berries, basil leaves, a good dusting of icing sugar and gold glitter dust. use whatever berries you can.