Fun, fruity recipes to make with kids
Keeping little ones entertained (and well-fed) is certainly no mean feat. Luckily, we've selected our favourite fun, fruity recipes that youngsters will love to create in the kitchen. You never know, you may have the next Delia or Gordon on your hands…
Chocolate-dipped red ruby fruits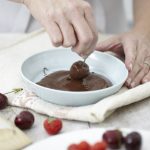 Keep little chocaholics satisfied with these oh-so-simple chocolate-dipped fruits. To make, simply melt white or milk chocolate, before dipping fresh fruit into the melted mixture; we find strawberries, cherries and grapes work particularly well. Place on a baking tray and leave to cool in the fridge – if you can resist tucking in straight away.
Watermelon hearts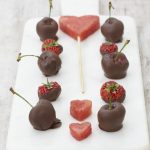 Watermelon is the perfect warm-weather companion, thanks to its high water content and tropical flavour. Spend sunny days cutting simple shapes into watermelon using cookie cutters – they pieces are also great frozen for an extra-refreshing treat.
Pineapple rings
Kids will love this fun, frui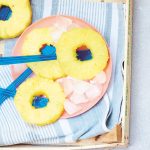 ty alternative to ice lollies. Simply slice the pineapple into rings then place a lolly stick through each slice to secure firmly. Lay on a baking tray lined with greaseproof paper, then cover with a layer of greaseproof paper to avoid freezer burn, then freeze overnight. Why not experiment with fun toppings such as milk chocolate and crushed nuts? Simply dip the pineapple into melted chocolate and then add your chosen topping before freezing.
Loved this? Now read:
Liz's no-bake healthy flapjacks
Blackberry, pear and rose fruit leathers