Health and beauty benefits of liquorice
Native to Asia, India and Southern Europe, the culinary liquorice plant, or Glycyrrhiza glabra, has pale blue or white flowers and grows up to two metres high; its feathery-leaved appearance makes it look like an exotic plant but it is perfectly happy growing in soils from Scandinavia to southern Europe. The health and wellbeing benefits of liquorice lie mainly in the roots – which grow almost twice the size of the plant, sometimes reaching four metres long! The sweet, woody roots were traditionally chewed raw to quench thirst and have also been used for rejuvenation in Ayurvedic medicine for centuries. It is not just the root used in Indian culture – the hard, red seeds of the liquorice plant are used as prayer beads. Rather like Marmite, it's either a love it or hate it kind of flavour – with the compound anethole responsible for the often disliked aniseed taste, also present in fennel. The root's natural sweetness comes from glycyrrhizin, which is reputed to be around fifty times sweeter than refined sugar.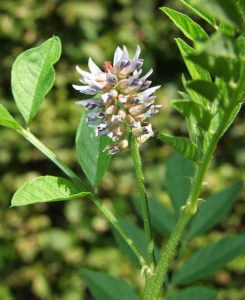 Liquorice holds many health benefits including treatment for skin complaints and even perhaps symptoms of the menopause, but must be used with caution due to the adverse affects that glycyrrhizin can have on our cardiac system. Liquorice first appeared in the UK when it was brought to Pontefract in the 16th century, where an annual liquorice festival takes place to celebrate the root and where it was made into black liquorice confectionery, otherwise known as 'Pontefract cakes'. Many herbal tea blends include liquorice as it is thought to harmonise and enhance the benefits of other herbs as well as containing lots of 'good doing' properties of its own. One of Liz's favourite liquorice teas is Teapigs Liquorice and Peppermint – its refreshing, sweet flavour being perfect for after dinner.
Health and beauty benefits of liquorice
Soothe your skin
Liquorice root is sometimes used as a poultice or dressing for those with eczema or dry, itchy skin. The glycyrrhizin in the root contains soothing and anti-inflammatory properties that can act as an emollient for sore, dry skin.   
Aid digestion
The flavonoids in liquorice root are thought to help the pain and discomfort sometimes experienced during digestion, hence why we may drink liquorice tea after a large meal. Liquorice has also been used traditionally to treat internal ulcers thanks to its naturally foaming saponins, reputed to soothe sore throats and help loosen mucus during a cold. Liquorice also contains natural laxative properties, which can make digestion a somewhat smoother process.
Keep in balance
During the menopause, hormones can become erratic and imbalanced but, thanks to a small amount of liquorice's phytoestrogenic properties, this can be helped. Studies in Japan and Asia, where more phytoestrogen compounds are ingested than in the UK, have shown that liquorice could protect our bodies against diseases that threaten the breasts and womb, as well as reducing the frequency and severity of hot flushes and night sweats.
Relax your muscles
Drinking a cup of liquorice tea in the days leading up to your period is thought to help cramp and other pre-menstrual symptoms such as breast tenderness and bloating. The glycyrrhizin in liquorice may help support the adrenal glands, leading to reduced stress within the body.
Growing your own liquorice
Ben Asquith, from Brandy Carr Nurseries in West Yorkshire, brought liquorice growing back to British soils in the early nineties when he took over the business from his father. The plant stopped being grown in the UK during the economic crisis of the 20th century but Brandy Carr Nurseries are now one of the few garden centres to sell seeds and year-old seedlings of liquorice. Ben advises that liquorice grows happily in any well-drained soil, but prefers the rich, fine sandy varieties over sticky clay. It takes about two years for the root to mature with them being ready to harvest in late autumn. They are easily cut from the crown of the plant, which is then replanted in the spring once the risk of frost has passed.
To find out more about growing your own liquorice, visit Brandy Carr Nurseries.
Wellbeing Wisdom
Liquorice is thought to help ease the symptoms of the menopause, reducing the frequency and severity of hot flushes and night sweats
It also contains natural laxative properties, which can help ease indigestion