Florals – Lessons in texture
Using fresh foliage, seed heads and dried berries, these arrangements, in vintage and unusual vessels, bring the outside in and spread comfort and joy at the chilliest time of year.
PEPPERCORN CHANDELIER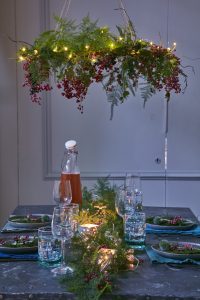 We used: 6 willow canes, jute twine, asparagus fern, bunches of dried pink and black peppercorns, and battery-operated fairy lights.
1. To make the chandelier base, tie two willow canes together end-to-end with jute twine to create a double- length cane. Repeat twice more to create a total of three double-length canes. Take one of these and bend it into a circle, tying the ends together with more twine. If the length is too stiff to bend, soak it in cold water for 20 minutes to make it more supple. Reinforce the circle using the remaining canes, tying them all together with twine.
2. To dress the chandelier, thread stems of garden foliage between the circles. We used asparagus fern and added small bunches of dried pink and black peppercorns, which look pretty hanging down – be gentle if using these, as they can be delicate.
3. To hang, tie four lengths of twine to the circle, spaced evenly around the edge. Then tie the loose ends together and hang from a hook. A small set of battery-operated fairy lights add twinkle, if you like. Your chandelier should last for a couple of days. If you're not using fairy lights, you can spritz with a little water to help extend its life.
LESS IS MORE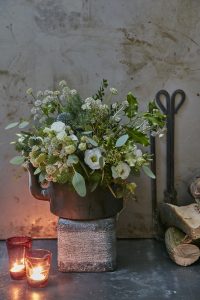 Top Tip: An unusual choice of vessel suggests winter warmth.
Here we used fresh green box-leaved holly, ivy and eucalyptus, plus blue globe thistle and white astrantia and lisianthus. Build this arrangement in your hand, starting with the foliage, then adding any blooms. Aim to create a dome shape, trimming the stems when happy with their position. Keep an eye on the water level in a vessel like this one. It's easy to miss it running low, especially when the central heating's on high.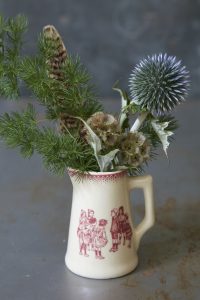 PRETTY IN PINK
A great way to turn small amounts of garden foliage into an attractive display. Pheasant feathers add another colour and texture here. Arrange greenery-filled jugs on a sideboard or mantelpiece, down the centre of a table, or dot the vessels around a room.
LESSONS IN TEXTURE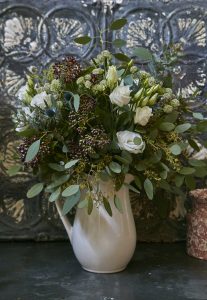 This beautiful arrangement proves just how effective a display of mostly foliage and seed heads can be. We've used scabious seed heads and viburnum berries to add to the assortment of shapes and weights here. To these garden finds, we've added just one bunch of inexpensive lisianthus for extra romance.
Floral styling – Bethany Spottiswood
Loved this? Read on here:
– Stylish autumn flower arrangements
– Liz's guide to botanical living